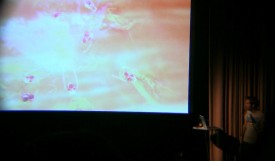 On Tuesday afternoon I headed up to Derby for Five Lamps' Film Night at The Quad. The turn-out for the event was good, with several old acquaintances unexpectedly in attendance, plus a distant relative I'd never met before. After a nice selection of short films were screened, including Sophie's excellent Ashes trailer, it was time for me to get up and witter on about Soul Searcher for an hour or so. The talk was well received and some intelligent questions were asked at the end.
Most importantly, the Stop/Eject donations bucket – beautifully decorated by Sophie with flashing lights – had nearly £60 in it at the end of the night. Big thanks to Sam and Carl at Five Lamps for hosting the event and to everyone who gave so generously.
The next day was to be an intense Stop/Eject recce day. But the first task was to shoot scene 20, a GV of the river in Belper with autumn leaves being washed away. This had to be shot while there were still leaf-less trees around, which there won't be by the end of April when principal photography commences. Katie and I had collected the leaves before Christmas and now it was time for them to have their fifteen minutes of fame.
I set up the camera on a little dock and Sophie started sprinkling the leaves into shot. They did not wash away as I had hoped. They pretty much stayed put. And all the ducks and geese and swans came over and tried to eat them because they thought we were feeding them bread. D'oh.
After that we popped into a nearby furniture store to enquire about using their power supply and a space for hair and make-up when we film in the River Garden next month.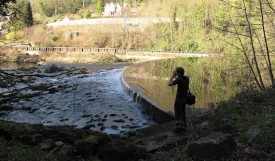 Then it was time to pay Sophie's grandparents a visit and – after some subtle attempts to convince her grandma to play Old Kate in the film – we set off with grandad on a recce tour of the Derwent Valley. The main aim of this was to find a weir that was more suitable for filming on than the dramatic but inaccessible horseshoe weir at Belper.
Our first stop was Willesley, where we walked down to the river behind Masson Mills. And we immediately found the perfect weir. I spent quite a while checking out different angles and considering how my planned shots would work there.
Next stop was Magpie, the shop in Matlock that we lined up last year as the film's key location. This was the big shocker. I knew from talking to Matthew, the owner, on the phone, that since last October he had purchased the building's three upper floors and was in the process of expanding the shop into them. The reason I wanted to recce again was in case the ground floor had been changed during this expansion. And indeed when we arrived there we discovered it had, which will necessitate some minor changes to the shots and blocking.
But then we took a look upstairs. This used to be a B&B, and many of the rooms are intact and not currently in use by Magpie… Rooms that are perfect for filming the flat scenes in, and the nursing home. And rooms that we can even stay in during the shoot. All the outstanding locations and the accommodation problem all sorted in one fell swoop! Matthew, you are a legend.
After this we returned to Belper and the basement of Strutt's North Mill, as featured in my lighting previsualisation blogs recently. There I conducted some quick white balance tests on the overhead fluorescents while Sophie measured the bobbin crates which we'll be using as shelves for the cassette tapes.
There was just time for a chat about how the cassettes should be labelled and a look at the suitability of Sophie's kitchen as the location for a brief scene before I had to catch my train home.
All in all, a very successful and productive trip. So much so that it seemed something had to go wrong to balance it out, and indeed I got some bad news yesterday regarding the cast. But more on that some other time.