Tomorrow night is my Soul Searcher lecture in Derby in aid of Stop/Eject. I'll be talking about how I got my feature film funded, made and distributed, with plenty of clips and amusing anecdotes (that were far from amusing at the time, I can tell you). Find out all the details at the event page on Facebook.
There's plenty for me to do on the train up there – most importantly going through the storyboards and altering them to fit the revised script.
Staying in Derbyshire, Sophie and I have a packed schedule for Wednesday, with lots of weirs to recce, some crates to measure, props to approve and a GV to shoot.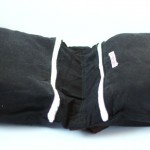 Meanwhile Katie is off to Smethwick for a costume fitting with Therese Collins, a.k.a. Alice, the character formerly known simply as The Shopkeeper. Expect a guest blog from Katie about that soon.
Remember, even if you can't get to Derby, you can still contribute to the production by clicking the donate button in the righthand sidebar. And we're still offering a free sandbag with mainland UK delivery for every £10 you donate. See my earlier post for more info on that.
Less than four weeks to go until we shoot…