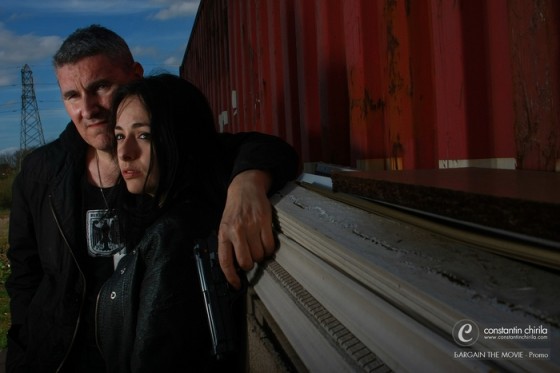 Filmmakers Calum Rhys, Lawrence Donello and Matt Johnson recently launched a Kickstarter campaign for their feature film Бargain. It's always great to see new film projects coming out of my local area (the team are based in Worcester), so I asked Matt to fill me in on the details.
Give us the pitch, Matt. What is Бargain?
Бargain is an urban thriller about the relationship between Zoran (a Bosnian asylum seeker with a troubled past) and a young Albanian girl called Nazir, threatened by loan sharks and thugs on the sink estate where they both live. Reluctantly, Zoran is drawn into what he thinks is a vigilante conspiracy by McMurtagh, a former IRA terrorist turned gangster, in order to protect Nazir. In fact, he's being set up to murder a police protected witness. When Zoran tries to pull out of his side of the "bargain," Nazir is threatened (and later kidnapped) to make Zoran go through with the killing. Now, on the wrong side of the law, he must use all his resources and test his moral boundaries to breaking point to rescue Nazir while confronting McMurtagh and his own nemesis from the war in Mostar.
You have an international cast attached – how hard was it to get these people on board? Did you go through their agents, and if so how did the agents response when you told them you planned to raise the budget through crowd-funding?
Something which surprised and encouraged us was how quickly significant European actors grasped the international significance of this movie, such as Amarildo Kola who plays Croatian gangster DIMITRI and was also in he brilliant and award winning THE FEAR on Channel 4.

Other key actors? We have known our lead Greg Hobbs who plays Zoran for years now and he was involved in the original teaser we shot two years ago. Greg is also now a producer of the film. He has extensive links to Birmingham's Bosnian community, speaks serbo-Croat and has played a major role in refining Zoran's character. The chemistry between Greg and Sophia, the young Bulgarian actress who plays Nazir, is also terrific and it would be very hard to imagine anyone playing Zoran as well.

As for our antagonist we are very lucky to have Tommy O'Neil as McMurtagh. As well as his acting abilities, (THE GENERAL, A BELFAST STORY), Tommy has the right kind of South Belfast background to play McMurtagh's role with conviction and even knew Cahill, the notorious "General" of Dublin's underworld, in his youth. Roger Cottrell, who wrote BARGAIN and lives in Ireland, first met Tommy at the Irish Film Centre in Dublin and was immediately impressed with Tommy's grasp of McMurtagh's role as Mestopholes in the narrative. Much as in TS Eliot's poem, THE WASTELAND, or a novel or film by Graham Greene, contemporary society is depicted as a Hell in which the inmates (like Zoran) must also make moral choices if they are not to be damned. McMurtagh, in this respect, is more than just a criminal but rather the devil, in the tradition of Iago in Shakespeare's OTHELLO, who is out not merely to destroy Zoran but to corrupt him and steal his soul. Tommy got this right away and brought to the role its emotional charge.
You have some really eye-catching concept art/storyboards – how important would you say these kind of visuals are to a crowd-funding campaign?
They are crucial because films are visual experiences. If you look at a film noir by a great, classical director like John Cassavetes – there was a Cassavetes retrospective in London, recently – the way that he used shadow and camera angles to depict everyday life as a threatening and hostile environment went to the core of what he was saying about social alienation. We are trying to achieve a similar effect in the digital age using the technology that is available to us. The look of a great movie is never incidental and that is why our director has meticulously story-boarded to this extent.
Is your £3,000 target the whole budget or do you have other sources of financing lined up? If not, I'm intrigued to know how you're going to make a feature with an international cast for that figure!
Good Grief no. We're currently seeking co-producers to help us raise more funds but the three thousand will really help us get the ball rolling. We want to shoot on Red Epic and we have had really great camera operators get in touch with us offering to come on board for expenses but, naturally, we also want everybody (including ourselves) to finally be paid the union rate! Guerilla filmmaking shouldn't be about exploitation or antagonising BECTU but about kick-starting a project which otherwise wouldn't be made. The actual budget, which has been meticulously worked out, is for £500,000. We have put in an application to the BFI which is currently being processed. Of course something like 99% of BFI applications get rejected but we feel we have a real strong case. We're also looking for co-producers and for any other funding we can get so if anybody would like product placement or to talk to us about investment tax breaks or equity then get in touch.
Everyone and their dog seems to be crowd-funding these days – what are you doing to try and stand out amongst all those other project vying for people's cash?
The visuals we have up in terms of a teaser, the storyboards, the publicity shots are important but I think the most important aspect is generating a buzz around the film. This isn't just a film idea we have, or any old knock off revenge film that dumbs down Death Wish to Dudley. it's a milestone urban thriller that's also a state of the nation statement, in the solid tradition of Get Carter, The Long Good Friday, Face, Eastern Promises and Ill Manors that film students will be studying 20 years from now. It's a great package that includes international cast, great script, global appeal yet with it's roots still firmly in Britain. Бargain is the next big thing and we want to offer people a chance to play a part in getting it made.
You can find out for about Бargain and contribute to the crowd-funding campaign on their Kickstarter page.