I recently bought a Blackmagic Production Camera, having twice found myself in the position where I was scrambling about trying to hire one at short notice. Blackmagic Design have since announced the Ursa and the Studio Camera, but for now even the Production Camera is still pretty hard to get hold of.
I haven't yet used the camera enough to review it in any depth, but I thought this summary of its pros and cons might be useful to those out there considering their own purchase.
The BMPC has two advantages over its predecessor, the BMCC (Blackmagic Cinema Camera):
4K resolution (or 3840×2160 to be precise) rather than 2.5K.
Global shutter rather than rolling shutter, so you don't get any of that "jello" effect in handheld footage, quick pans, etc.
But the BMPC also has several disadvantages over its predecessor, namely:
Native ISO of 400, rather than 800, meaning it needs more light.
Twelve stops of dynamic range rather than thirteen.
Greater power consumption, though not as horrific as I'd been led to believe. My 6.9Ah battery goes dead about seven hours after call time.
ProRes is currently the only recording format. No DNxHD, no raw – though presumably that will come as a free firmware update at some point.
The  BMPC shares many of its predecessor's problems:
Highly reflective screen that is unuseable in daylight or any well-lit space, unless you put a cloth over your head like you're using a Box Brownie.
Internal battery has a very short lifespan and isn't removeable.
Utterly unergonomic form factor, but that's true of many cameras nowadays. Even supposedly ergonomic ones like the Sony F3 and the Canon C300 are in reality too heavy to handhold for any length of time.
Terrible audio circuits, but again that's par for the course.
For monitoring, SDI and Thunderbolt outputs only, no HDMI. (Though if you're upgrading from a DSLR, any monitor output that doesn't shut off the camera's own screen is a bonus.)
Can't shoot highspeed.
But it also shares many of the BMCC's strengths:
Excellent value for money. (The BMPC is currently £2,300 inc VAT.)
Lovely organic image with relatively little moiréing and a logarithmic look for the most flexibility in the grade.
Comes with a free copy of DaVinci Resolve.
No need to transcode footage before editing.
Although reflective, the screen is sharp and good for focusing.
Simple, uncluttered menus.
EF lens mount, so if you're upgrading from a Canon DSLR you can keep your old lenses.
Uses ordinary 2.5″ solid state drives to record onto, rather than proprietary media.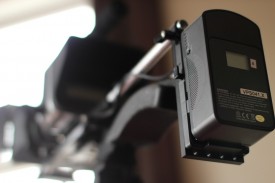 The look of this camera's images are definitely its greatest asset, and coupled with the affordable price tag, it's hard to beat.
If you're going to buy one, bear in mind that you'll also need to buy:
SSDs – at least £70 each, depending on the speed and capacity you go for.
Docking station for the SSDs (at least £20), unless you want to open up your laptop every time you ingest footage.
Battery system – I paid £500 for two unbranded 6.9Ah V-lock batteries, a charger, a plate and a D-tap cable. (Thanks to Richard Roberts for his advice on this.)
Rig – even if you're never going to shoot handheld, you'll need something to keep the camera and battery together.
Either an electronic viewfinder, a monitor or a cloth to put over your head so you can see the built-in screen.
An HDMI converter (at least £25) if you don't have access to an SDI monitor.
More on this camera coming soon.