Hereford's Borderlines Film Festival draws to a close for another year, and once again I'm going to temporarily turn film critic and say a few words about the screenings I caught.
Her
Spike Jonze's latest film puts a sci-fi twist on the romantic genre to produce a love story in which one half of the couple exists only as a voiceover. Joaquin Phoenix plays the improbably-named Theodore Twombly, a soon-to-be divorcé who falls in love with his artificially intelligent operating system, voiced by Scarlett Johansson. The big surprise here for me was the humour. Numerous comedy moments were derived from the application of relationship tropes to the unusual man-machine pairing. But in a near-future world which feels incredibly close to the present day, with our tablet and smart phone obsessions, our online dating, our social media – human relationships bridged (or barricaded?) at every turn by technology – the premise of Her felt entirely plausible, perhaps even inevitable. The film has emotional resonance too,  played out as it is in intimate close-ups with very genuine performances. And I must tip my hat to costume designer Casey Storm who, faced with the classic sci-fi challenge of how to make futuristic fashion seem believable, decided perversely that in the future, young people would dress like the elderly do today, trousers halfway up to their armpits and all – brilliant!
All is Lost
In this almost dialogue-free feature from director J.C. Chandor, Robert Redford plays a solo sailor who battles to survive after his small yacht is damaged in the Indian Ocean by a collision and a storm. All is Lost has a lot in common with Alfonso Cuarón's brilliant Gravity: both are extremely immersive tales of a single person alone against the elements (or lack thereof). At the end of both films you feel as if you have lived through those experiences yourself. And just as Gravity has been criticised by physicists and astronauts for alleged inaccuracies, so All is Lost was ripped to shreds in the post-screening Q&A by the many sailors in attendance, despite most of them apparently appreciating its entertainment value. Both films also tackled the big themes of life and death, both employing womb-like imagery in the process, Gravity's with Sandra Bullock floating foetally in an airlock, and All is Lost's with Redford curled up in the amniotic coccoon of his life raft. Where the films differ is in pace, however. Whereas Gravity was tense and action-packed throughout, All is Lost has more meditative sequences, during which I often found myself day-dreaming. But in a strange way, that made the experience all the more realistic, as the events continued to unfold in what felt like (but wasn't at all) real time and I picked them up a little further on. So not a film I would watch over and over again, but definitely worth seeing once for the experience.
Computer Chess
If the characters from The Big Bang Theory made a film, this is the film they would make. Nothing could be nerdier than this eighties-set tale of the rivalries in a computer chess tournament, shot in 4:3 B&W on a genuine period video camera. As if to establish once and for all that there will be nothing slick about this film, an early tracking shot ends with the camera jolting as the dolly comes off the rails. The relationship with technology is a deliberately blurred one throughout the film, with the style crossing over into "found footage" territory at times, constantly reminding us of the clunky electronic medium we're experiencing it through, while the narrative has computers displaying flashes of humanity – and vice versa. There is a vague story arc about one character rebelling against the nerdy restraint of it all, but the overall effect is of watching a time capsule, albeit a forged one. Computer Chess is an oddity, certainly, but one punctuated by some great comedic moments and saturated in nostalgia for those of us who once dabbled in the dark art of eight-bit programming.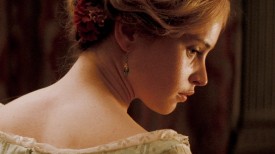 The Invisible Woman
Ralph Fiennes directs himself and the up-and-coming Felicity Jones (Georgina Sherrington's erstwhile Worst Witch co-star) in this biopic about Charles Dickens' affair with young actress Nelly Ternan. Adapted from Claire Tomalin's biography, the script is written by Abi Morgan, creator of the brilliant BBC 2 drama The Hour. Slow and subtle throughout much of its running time, The Invisible Woman holds the attention with a compelling performance from Jones, and beautifully understated cinematography. DP Rob Hardy consistently short-sides his subjects, giving the impression that they are all looking out towards something they can't quite reach. Restraint is the keyword here, and while Fiennes has spoken of the conscious efforts he made to show that there were real flesh-and-blood people beneath the period's restrictive costumes, the restrictions of society weigh heavily throughout. Just like much of Victorian literature, the film hints obliquely at scandal and impropriety without ever making it explicit. Unfortunately the result is that you come away from the film unsure as to why Dickens' marriage wasn't working, why he pushed his wife aside so cruelly, and what Ternan's real feelings were for him; did she love him, or was she merely star-struck? The Invisible Woman is very watchable, then, but not satisfying.
The Monuments Men
George Clooney directs, co-writes and stars in this faintly Dad's Army-esque true story of a team of clapped-out soldiers tasked with recovering great works of art stolen by the Nazis. Matt Damon, Bill Murray, John Goodman, talented character actor Bob Balaban, Downton Abbey resident Hugh Bonneville and The Artist's Jean Dujardin make up the rest of the team, aided by a resistance spy played by Cate Blanchett. The challenge for Clooney was to make us care about the Monument Men's mission to save paintings and statues, when men are dying every day for their countries. He achieves this by making us care for the characters – all curators and art historians – and thus share their love for art. Where many Hollywood scripts would have shoe-horned conflict into the team's relationships, this film avoids such crassness, allowing the characters to all respect each other, but nonetheless banter humourously throughout. A joyous score by Alexandre Desplat is the icing on the cake of this amusing and uplifting film, which ended my Borderlines 2014 experience on a real high.