My hands are sore, extremely dry and covered in small cuts. From this, if nothing else, I know I've just been on a shoot.
All of Stop/Eject's cast and crew will be recovering from some physical extremity, be it exhaustion, malnutrition, excessive dust inhalation, cold, damp or – in Georgie's case – five days of constant crying.
I can't believe we did it. I feel all the relief I did when the shoot collapsed back in October, but also the satisfaction of actually having shot the damn thing. And for the first time in years, I enjoyed directing.
Over the coming weeks there will be lots of blog entries about various aspects of the shoot, including an evaluation of the schedule (which I'm sure the cast and crew all have some pretty strong opinions on), the lighting, the things that slowed us down and the lessons I've learnt. I'll also get around to the entries I promised in pre-production but failed to deliver, like what's in my director's folder and what all the camera equipment does. I've got some interesting observations on the usefulness of my Proaim shoulder rig in the field too. And there's loads of behind-the-scenes footage to start sharing.
Not to mention a trailer, once I've cut it.
But for now, here's a summary of the last week.
Colin and I picked up the hire van first thing on Friday morning and, with Katie's help, loaded it with equipment, props, costumes, food, bedding and even a fridge for catering purposes. We travelled up to Derbyshire, stopping in Loughborough to pick up a jib kindly lent to us by Steve Lawson, arriving at Sophie's place in Belper at about 2:30pm.
The list of things that needed doing before we could start filming the next day was pretty big (though nowhere near as much so as it was the day before the intended shoot last October). Ideally we would have travelled up the previous day, but we had too many things to finish doing in Hereford first.
There was a ring to get resized, a set to finish building, costumes to be fitted, furniture to move, a location to hoover and another location to be recceed. This latter task threw up the biggest problem of the shoot. It was the weir at Willersley Castle Hotel in Cromford. Here's what it looked like when I scouted it a few weeks ago: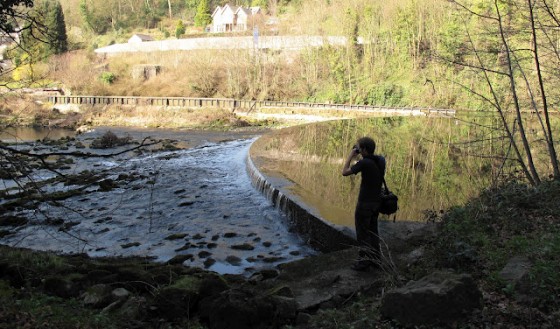 And here's what it looked like last week:
Weeks of heavy rainfall had swelled the water to a lethal torrent. That location was meant to be our first one, on Saturday morning, so we swapped it with the afternoon to give us some time to figure out what to do.
So we started at Belper's River Gardens on Saturday morning. In a week when the whole country got rained on pretty constantly, we were extremely lucky to experience only a couple of brief showers. In fact most of the day was quite sunny and, although it was a slow start like it always is on the first day of a shoot, we got through the material at a decent rate.
Rather than move locations in the afternoon, I opted to shoot the weir scene at the River Gardens, with the aim of getting the wide shot round the corner at the optimistically-named Belper Beach. Unfortunately we didn't get to the wides before Georgie had to leave to catch a train, so we ended the first day a couple of key shots in debit.
Sunday saw us filming the Boy Racer's scenes in and around the River Gardens before moving to Matlock in the evening to begin the shop floor scenes. At this point the schedule got pretty intense and it was really hard work to keep up with it.
Late finishes and early starts became the norm, and we all got pretty fed up of working in the shop, even though it looked fantastic on camera. At lunchtime on Tuesday we moved back to Belper for the basement scene at Strutt's North Mill, and brief scenes on a bridge, in a cemetery and in Sophie's kitchen.
Back at Magpie on Wednesday, we tackled the living room, bedroom and nursing home scenes before a long night of shooting on the alcove set, finally wrapping at some point around 2am I think.
On Thursday we returned to Willersley in the hope that the water level might have gone down. It had not. If anything it had got worse. In the end we crossed back over the river and filmed our weir wide shots in the grounds of Masson Mill. Then it was back to Magpie to clear up, pack, return Sophie's furniture and finally drive back to Hereford in the rain and the dark, stopping again to return the jib and the fridge before finally getting to bed at about 3 o'clock on Friday morning.
Huge, huge thanks to the cast and crew for sticking with me on this long and exhausting journey. Special mentions must be given to Colin, who was constantly put to work by every department and had to drive the van, Georgie and Ollie, who spent a couple of hours standing in cold water on Thursday, and Debs, who ended up doing a lot of the cooking and had to drive for over an hour to get home after every late wrap.
Stay tuned for more tales from the set of Stop/Eject.