Today we have a special guest blog from Stop/Eject's costume designer, Katie Lake. She's going to explain how the costume vision for Alice, a.k.a. The Shopkeeper, has changed since we originally geared up for shooting last October.
The shopkeeper for Stop/Eject has changed pretty drastically since the first draft. Originally an old man, the character is now being played by a woman. To get across the idea of her being old, Neil (the director) originally liked the idea of Victorian costumes after the actress wore Victorian-esc clothes to the auditions. It probably also had to do with the fact we filmed a pilot set in the Victorian era and hashed through enough costume options together to have the Victorian era etched permanently into our brains. But having a little extra time to mull over the character and how to portray Neil's imagining of the character through costume, I became fixated on the idea of a 40s/50s librarian look.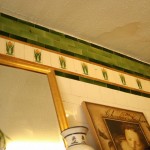 Neil wanted her to look like a shop keeper for a charity (thrift) shop, and so many of the women who volunteer at them seem to be themselves stuck in the 40s and 50s clothing wise. I also felt it fit better with the overall retro theme, and didn't give too much away about the shopkeepers background (no spoilers so I'll leave it at that!). After discussing it with Neil, we decided to go for the idea, and came up with a color palette as well. Neil was eager to have the costumes fit into the color scheme we've already picked for the film, as well as with these beautiful art nouveau tiles that line the shop we're using as a set. Which were mustard yellow and olivey green. I knew I wanted to add browns, cream, tan, and maybe a splash of maroon to the palette. To get the 40s/50s look I knew I wanted wool plaid skirts, blouses and cardigans, short pearls, rounded-toe 1-2″ heels, and retro glasses would be a bonus.
After gathering some reference photos on pinterest, I headed out to charity shops looking to see what I could find. After a few different searching days, I'd come up with a couple skirts, a pair of 40s looking trousers, a couple blouses and cardigans, a broach, some pearls, and a coat. After every shopping trip I'd lay the pieces out on the floor and mix and match them. The more things I found, the more the outfits would come together until there were just a few pieces missing. At that point I was able to figure out exactly what I was looking for to finish off the 4 looks. When you have specific items on your list, it's much harder to find what you are looking for than when you had a general idea and color palette. Instead of looking for any wool skirt size 12 or larger (as long as it can be taken in) in greens, golden yellows, brown, tan or cream, I was now looking for a tan or light-medium brown colored wool skirt in a solid or subtle pattern. I was also getting pretty desperate for shoes. After realizing I am the same size as the actress (shoe sizes are different in the US and UK) and looking through my collection I found a suitable maroon pair, leaving me with only a saddle tan or navy pair to find. After searching numerous charity shops while paying a visit to the actress for fittings, we found the last skirt and navy shoes. A couple days later my ebay finds arrived- a nurses watch and retro glasses- finishing off my list.
Here are the photos from the fitting – the skirts have been pinned so I know where to shorten them too, and each has to be pulled in (that's why they are looking a bit bulky)- so the look will be more streamlined once the alterations are done. I'll also add the details, like nude stockings, the nurses watch, glasses hanging around her neck, and HMU will do wondrous things with her hair.
Next up I'll do the alterations, organizing/cleaning/iron or steaming the costumes, and breaking down the costumes on paper (in an xls file) so I (or the actress) don't have to remember what goes with what on the day (and in case I get sick or injured someone else will be able to fill in).
I'm also still working on the male lead's costumes- as all but 3 of his costume pieces were returned last year, and with the additional costs of all the shopkeepers outfits, I now have to dress him with half the budget. Did I mention he was a hard-to-find size as well?
Visit Katie's costume blog at www.katiedidonline/costumes for more on Stop/Eject and other projects.