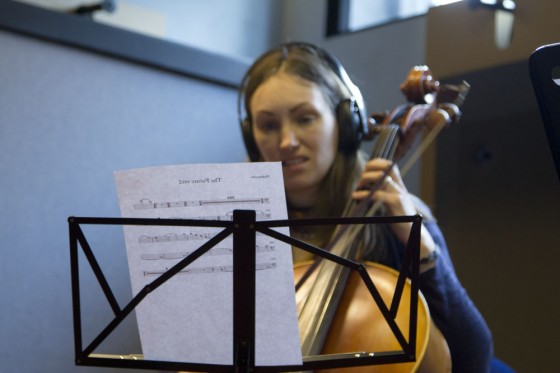 Yesterday saw the recording of Stop/Eject's score at Worcester College of Technology with four members of the Film Orchestra.
Recording music is similar in some ways to shooting a film. Time is precious, and the composer (or director) is constantly having to make judgement calls: do we record another take, or do we live with what we've got and move on? Shall I play that take back to check it's okay or is it quicker just to record another one? Do we go from the top again or pick it up part way through? Can I fix it in post? Am I giving the performers what they need in order to do their best work? Is what we're doing going to work with the other elements it will be combined with later?
As is often the case, recording started very slowly and gradually sped up (out of necessity!) as the day went on, eventually finishing just in time before the caretaker locked up the building. It was fantastic to hear the score come to life and, as with our first collaboration (Soul Searcher), Scott provided more than one musical moment that made me all tingly. He will now mix the live violin, cello, flute and clarinet with a sample-based piano and other instruments to create the final music tracks.
You can see a very brief video clip of the music being performed on Stop/Eject's Facebook page (Facebook account not required to view).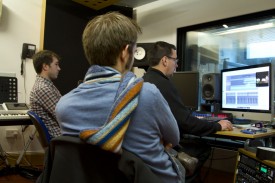 Big thanks to everyone who made yesterday possible: composer/conductor Scott Benzie, cellist Lorna Davies, violinist Heather License, flautist Sue Salsbury, clarinettist Jack Suttie, WCT staff Max Alexandre, Billy Craythorne and Craig Ward, student Kurt Teale, behind-the-scenes camera op Owain Uylet, and Jane Whittle, Simon Munn, Paul Bellamy and David Staiger for helping me get in touch with the right people to arrange everything.
If you're in the Worcester area and you're a musician who's into your film scores, check out the Film Orchestra's Facebook page.
Elsewhere in the world of Stop/Eject, the last of the visual effects shots are being mopped up, I've just heard the first draft of the sound design, Andréa Kristina's song for the end credits is almost finished, and the last two pick-ups have been shot by Chris Newman and Sophie.