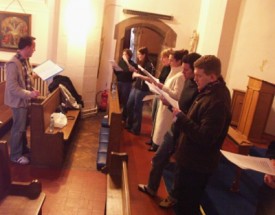 Next week we record the music for Stop/Eject at Worcester College of Technology with players from the Film Orchestra. I think it's a shame that many low budget filmmakers are content to let the composer create the music in their home studio, often without using any real instruments at all. It's true that it takes a little more organisation to record a score with live players, but the richness and authenticity of the sound you get is well worth the effort.
Let me explain how I was able to arrange this recording session, because it demonstrates the importance of building your contacts.
Once the score was written, I started with a simple shout-out on Facebook for musicians. This was seen by Simon Munn, who is part of my social media network because I gave a talk at the Worcestershire Film Festival, which he organises, last year. There are many benefits of giving talks, paid or otherwise (which I touched on in a previous post) and making contacts is one.
Simon put me in touch with Jane Whittle at the Film Orchestra, a group of amateur musicians based in Worcester. Several of their members expressed an interest in performing the music, so I knew that I needed to find a recording studio in Worcester to make it as convenient as possible for them.
Years ago I hung out with some friends while they were recording a demo for their band (King Monkey) at Worcester College of Technology, so I knew there was a studio there. I contacted Paul Bellamy and David Staiger, both Worcester-based musicians who were involved in the recording of Soul Searcher's score back in 2005. I figured one of them probably had some link to the college and I was right; Paul works there. He put me in touch with the Head of Performing Arts and Music Technology, who was very enthusiastic about the whole idea, and from there it was just a case of working out the details. In return I offered to give a free guest lecture at the college, citing my prior experience at Hereford College of Art, the SAE Institute, etc.
There are two morals to this story. One is the value of networking, making new contacts and maintaining those contacts (which Facebook makes it really easy to do now). The second is, if you're a young filmmaker struggling to get stuff made, remember that collaboration not only benefits your current project; you could be sowing seeds which will help your future projects too.