In 2013 Katie Lake and I made a little puppet film for the Virgin Media Shorts competition, called The One That Got Away. Although it failed to make the shortlist, I believed it had legs, so I started entering it into festivals. Today I'm going to talk about how it fared. A little later in the year I'll do the same thing for my other 2013 short, Stop/Eject, and between the two posts I hope to help you answer the question, "Is it worth entering my film into festivals?"
To start with, here's the film.
It cost next to nothing to make, so I decided to enter it only into festivals that had no entry fee. I created accounts on the festival submission platforms Short Film Depot and Reel Port. Both sites have systems whereby you purchase credits (known on Short Film Depot as 'reels' and on Reel Port as 'stamps'), which you can then use to pay for submissions. As far as I know, this payment is purely a middleman fee and doesn't go to the festivals themselves. Both sites allow you to upload your film, which is then sent automatically with your submissions.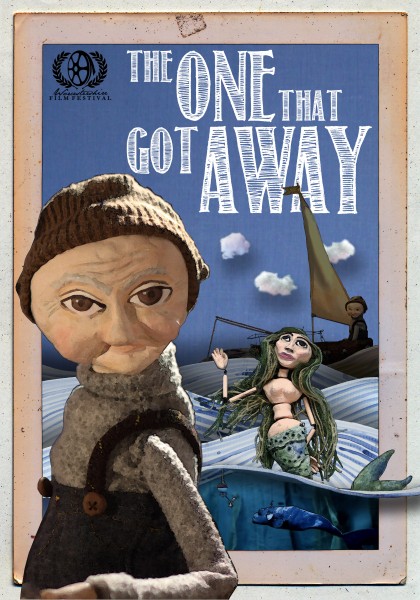 Short Film Depot allows you to upload your first film for free, with subsequent uploads costing 3 reels (€3 – currently about £2.15). Each festival submission costs 2 reels(€2 – about £1.45).
Reel Port is free to upload your film to. Each festival submission costs one stamp. Stamps are priced on a sliding scale: buy just one and it will cost you €3 (£2.15), whereas a book of 5 is €12.50 (£9), a book of 20 is €39 (£28) and a book of 50 is €75 (£54). So if you buy in big bulk, you could pay as little as £1.08 per submission, plus currency exchange fees. More likely, you'll end up with leftover stamps you never use!
I entered The One That Got Away into 36 festivals over the course of about 18 months: 23 entries on Reel Port, 12 on Short Film Depot, and one directly to the Worcestershire Film Festival (which was completely free).
The total cost was €98.95, or about £71 plus currency exchange fees – that's about twice the film's budget! I should point out that I made one exception to the 'no entry fee' rule: that total cost includes €12.50 I spent on entering the film into Encounters. This was a discount rate because I was entering Stop/Eject at the same time. Why did I pay for Encounters? Because of their Depict Competition (which The One That Got Away didn't actually qualify for, being over 90 seconds) they seemed to be associated with very short films, and with hand-made animation-type films. Plus I knew the festival director from doing FilmWorks.
How many of those 36 festivals did the film get into?
Two. Worcestershire Film Festival, and Belo Horizonte International Short Film Festival in Brazil. Belo Horizonte's notification email told me that The One That Got Away "was one of the 12 selected for the Children's Exhibition, among 2,700 subscribers." That gives you an idea of the kind of odds you're up against with a festival submission. Suddenly 2 out of 36 doesn't seem so bad.
I have great admiration for what the guys at Worcestershire Film Festival are doing, and it was really great to go along and see the film with an audience, but at the moment it's quite a new and low-key festival. For all I know, the same is true of Belo Horizonte, though I wasn't about to fly to Brazil to find out. (They were not offering to pay my travel.) I'd estimate a total audience reach of about 100-150 people for those two screenings. Less, I would guess, than it's had online. And apart from a little bit of buzz amongst my social media network generated by the announcement of these festival selections, there have been no other benefits.
I leave you to decide for yourself whether you think it was worth all those entries and the cost of £71. A full list of festivals entered follows.
Look out for my future post on Stop/Eject's festival entries. Since that film was crowd-funded, we were able to take a very different approach and enter a lot of top tier festivals, so it will be an interesting comparison.
The One That Got Away submissions via Reel Port:
Anibar International Animation Festival, Republic of Kosova
12th International Festival Signes de Nuit,  France
Kinodot Online Festival of Creatibe Short Film, Russian Federation
The International Bosphorous Film Festival, Turkey
Exground Filmfest, Germany
Encounters Short Film and Animation Festival, UK
9th International Short Film Festival, Lithuania
Cinefiesta, Puerto Rico
Mobile SIFF – Shanghai International Film Festival, China
Odense International Film Festival, Denmark
Concorto Film Festival, Italy
20min|max, Germany
Submissions via Short Film Depot:
Short Shorts Film Festival & Asia
International Short Film Week, Regensburg
Seoil International Extreme-short Image & Film Festival
Curocircuito – Santiago de Compostela International Short Film Festival
Tehran International Short Film Festival
Kaohsiung Film Festival
Asiana International Short Film Festival
Bogota Short Film Festival
Belo Horizonte International Short Film Festival (accepted)
Kuku International Short Film Festival for Children and Youth, Berlin
Off-courts Trouville
Uppsala International Short Film Festival
Shnit International Short Film Festival
Manlleu Short Film Festival
Sapporo International Short Film Festival & Market
Sao Paulo International Short Film Festival
Seicicorto International Film Festival Forli
Festival Silhouette
China International New Media Shorts Festival
Plein la Bobine
Corti da Sogni Antonio Ricci – International Short Film Festival
FEC Festival – European Short Film Festival
Mecal Barcelona International Short Film and Animation Festival
Direct submissions:
Worcestershire Film Festival (accepted)