A couple of weeks ago I screened the 35mm print of The Dark Side of the Earth's pilot at the last FilmWorks session in Bristol. It had been about 18 months since I last ran the print, and I was shocked how much attitudes towards celluloid had changed in that time. People were acting like they hadn't seen a roll of film in 20 years, like I was some kind of whacked-out nostalgia hippy for wanting to shoot on 35mm. (But it still looked fucking awesome on the big screen.)
Digital cinema is one of those things that's been lurking on the horizon for ages, then suddenly, silently… it's here, like it's always been here. Projection of moving images from celluloid is very, very quickly becoming extinct, as is acquisition of moving images on celluloid. Suddenly the likes of Christopher Nolan and Quentin Tarantino, staunch defenders of shooting films on film, are starting to look a bit loony, although I agree with them completely.
In September Fuji announced it would cease manufacturing of film stock, leaving only Kodak in the "market", if such a word can be applied to an unwitting monopoly.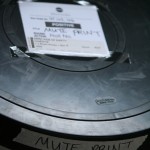 So we're quickly heading towards a world in which "film" is a word completely divorced from its original meaning. Plastic strips coated in light sensitive emulsion will no longer play any part in the production or consumption of "films".
The other day I went to see The Hobbit: An Unexpected Journey. Although I chose to see a 2D 24fps screening, Peter Jackon's sedate trilogy has been made in 3D at 48fps. The higher frame rate produces smoother motion which most people will associate with news broadcasts and documentaries. Overall the aim seems to be to make watching a film more like experiencing real life – sharper, smoother, three-dimensional. But is that what we really go to the cinema for?
It's not what I go for. I want the scratches and the weave and the flicker because without them there is no magic, there is no suspension of disbelief. I want escapism. I want film. It seems I'm to be disappointed for the rest of my life.