How were visual effects achieved before the advent of computer generated imagery (CGI)? Most of us know that spaceships used to be miniatures, and monsters used to be puppets or people in suits, but what about the less tangible effects? How did you create something as exotic as an energy beam or a dimensional portal without the benefit of digital particle simulations? The answer was often a combination of chemistry, physics, artistry and ingenuity. Here are five examples.
1. "Star Trek" transporters
The original series of Star Trek, premiered in 1966, had to get creative to achieve its futuristic effects with the budget and technology available. The Howard Anderson Company was tasked with realising the iconic transporter effect which enables Kirk's intrepid crew to beam down to alien planets. Darrell Anderson created the characteristic sparkles of the dematerialisation by filming backlit aluminium powder being sprinkled in front of a black background in slow motion. Hand-drawn mattes were then used to ensure that the sparkling powder only appeared over the characters.
2. "Ghostbusters" proton packs
The much-loved 1984 comedy Ghostbusters features all kinds of traditional effects, including the never-to-be-crossed particle streams with which the heroes battle their spectral foes. The streams consist of five layers of traditional cell animation – the same technique used to create, say, a Disney classic like Sleeping Beauty – which were composited and enhanced on an optical printer. (An optical printer is essentially two or more film projectors connected to a camera so that multiple separate elements can be combined into a single shot.) Composited onto the tips of the Ghostbusters' guns were small explosions and other pyrotechnic effects shot on a darkened stage.
3. "Lifeforce" energy beams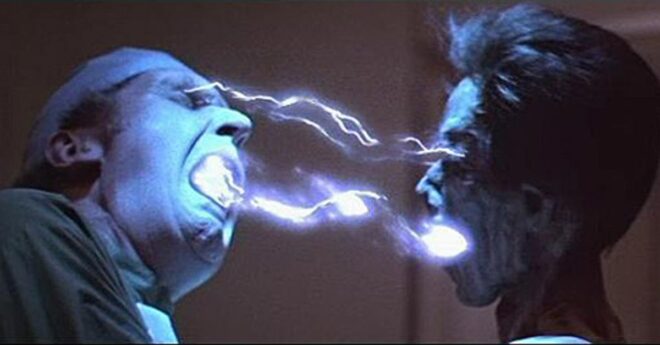 This cult 1985 sci-fi horror film, most notable for an early screen appearance by Patrick Stewart, features alien vampires which drain the titular lifeforce from their victims. To visualise this lifeforce, VFX supervisor John Dykstra settled on a process whereby a blue argon laser was aimed at a rotating tube made of highly reflective mylar. This threw flowing lines of light onto a screen where it would be captured by the camera for later compositing with the live-action plates. The tube could be deliberately distorted or dented to vary the effects, and to add more energy to certain shots multiple brief elements of a flashing xenon bulb were added to the mix.
4. "Big Trouble in Little China" portal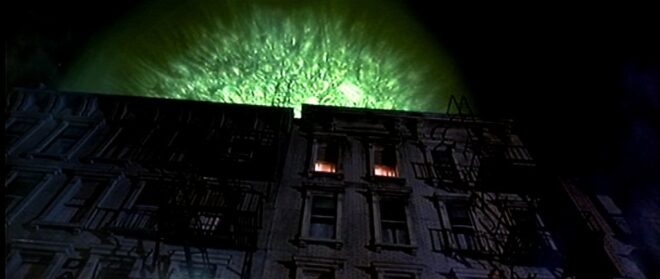 A mixture of chemical and optical effects were employed for certain shots in the 1986 action-comedy Big Trouble in Little China. Director John Carpenter wanted an effervescent effect like "an Alka-Seltzer tablet in water" to herald the appearance of a trio of warriors known as the Three Storms. After many tests, the VFX team determined that a combination of green paint, metallic powder and acetone, heated in a Pyrex jar on a hotplate, produced an interesting and suitable effect. The concoction was filmed with a fisheye lens, then that footage was projected onto a dome to make it look like a ball of energy, and re-photographed through layers of distorted glass to give it a rippling quality.
5. "Independence Day" cloud tank
By 1996, CGI was replacing many traditional effects, but the summer blockbuster Independence Day used a healthy mix of both. To generate the ominous clouds in which the invading spacecraft first appear, the crew built what they called the "Phenomenon Rig". This was a semi-circle of halogen lights and metal piping which was photographed in a water tank. Paint was injected into the water through the pipes, giving the appearance of boiling clouds when lit up by the lamps within. This was digitally composited with a live-action background plate and a model shot of the emerging ship.
See also: "Top Five Low-tech Effects" and "5 Simple but Effective Camera Tricks"