In this first blog evaluating the recent crowd-funding campaign for my short film Stop/Eject, I'm going to look at how the total developed over time.
It was Sophie Black, Stop/Eject's production designer, who first suggested I look to crowd-funding to finance the film after the original funding arrangement with a production company fell through. My initial response was sceptical. It seemed to me that crowd-funding campaigns only succeeded when the filmmaker or (in the case of documentaries) the film's subject had a very large online following already. Although I have been blogging and running websites since 2001 I've rarely made any effort to promote these sites, and this fact, combined with my indifference to social media, would inevitably lead to crowd-funding failure – so I thought.
However, with Creative England showing no signs of establishing a short film funding scheme, I could think of no other method of raising the money for Stop/Eject. So I asked Sophie to come on board as producer and bring to bear her experience of successfully crowd-funding Crash Taylor's short film Jar of Angels. Luckily for me she said yes, and we launched the campaign in November.
Sophie chose to set the target at £2,000. Although we knew that the film would cost more than that to make, she felt that people were more likely to contribute if the target was smaller and thus seemed more attainable. Indeed many websites that give advice about crowd-funding suggest £2,000 as an ideal target for that very reason.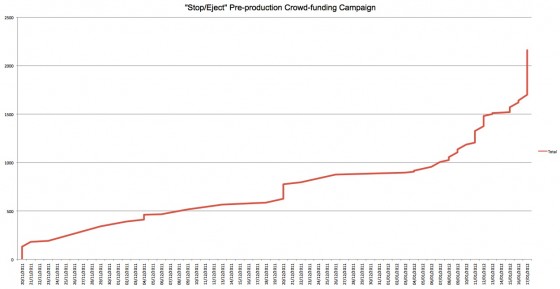 Crowd-funding is quite stressful because you wake up every morning thinking, "What can I do today to make people contribute?" It's an emotional roller coaster too. When the total sticks for a few days – as you can see it did between Christmas and New Year – it's incredibly depressing, but when it leaps up like it did on December 20th you feel happy and motivated again.
The two biggest things that steepened the curve were the Midlands Today coverage and the impending deadline. The Midlands Today report went out January 11th but was filmed – and intended to be broadcast – a few days earlier. As a result there were a few days in a row of Facebook activity surrounding it and this transformed the campaign from what looked like a lost cause destined to come in at least 25% under target, to something with a fighting chance.
As the deadline drew close, I was touched by how many people took up the cause and shared the link wherever they could. A lot of people really wanted to see it succeed, and they helped us accelerate towards the target.
In my next post I'll look at who donated and why I think they donated.