(Links to previous parts of the evaluation: part 1, part 2, part 3, part 4, part 5.)
One of the key lessons learnt from Stop/Eject's first crowd-funding campaign is that people don't tend to donate unless they have a pre-existing connection to some element of the project, e.g. they know the filmmaker, it's being shot in their home town, it has an actor in it they like, or it's about a subject they're interested in. That first campaign was very much dependent on people knowing me and wanting to support me, as we had no other "elements" at that stage.
When, a week prior to shooting Stop/Eject, we cast Georgina Sherrington in the lead role, the last thing on our minds was crowd-funding. But her cult status as the former child star of ITV's The Worst Witch provided a new "element" when we came to launch our second campaign.
We found that sponsors of the second campaign generally fell into two camps: Georgina Sherrington fans, and sponsors putting in larger amounts who were either doing so purely philanthropically or who wanted custom rewards to help them with their own filmmaking endeavours. Other than these custom requests, the rewards aimed at filmmakers were unsuccessful (most of them got zero sales, so aren't included on the above graphs), proving beyond a doubt that I was not the major "element" in this second campaign.
The "Memoirs of the Worst Witch" reward was added after our campaign had already been running for a few months and the total had been stuck for a while around the halfway point. It was a download of a 20 minute interview with Georgina about her time on The Worst Witch, and it turned out to be one of the most popular rewards in terms of units sold.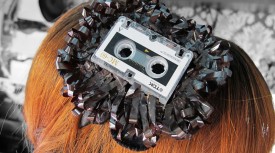 In an effort to combat the disadvantages of a campaign without a deadline (see part 5), we introduced "Collections" – groups of four new rewards that were only available in limited numbers and for a limited time. These helped keep awareness of the campaign up, but didn't bring much money in.
In general, several of the rewards required a ridiculous amount of time (and in some cases money) to produce in relation to the amount of sponsorship they brought in, most notably the glossy photo books. If I had to run this campaign all over again, I'd offer a smaller number of rewards, and most of them at the lower price breaks (£10-£50), with just a couple of suggestions for custom rewards at maybe £100 and £200.
Next time I'll talk about how we promoted the campaign and engaged with the audience, before summing up my overall thoughts and feelings on crowd-funding Stop/Eject in the eighth and final part.