Saturday night saw the third and final day of production on Forever Alone. If you haven't already, check out my blogs on day one and two of this sci-fi short by Jordan Morris. (I've gone back and added some frame grabs into the day two post.)
This time around, our lighting kit had grown just slightly with the addition of a 650W Arrilite. Without this it would have been near impossible to light the nighttime alley scenes that were scheduled. The alley in question was in a suburban area, conveniently adjacent to the producer's house and thus a power source.
I knew going into this shoot that I would have to embrace the sodium vapour streetlamps. In the past I've always avoided or flagged them, because that grungy orange look gives away that you don't have the budget to swap out the bulbs like they do in Hollywood. American film and TV nights are always steely blue; British film and TV nights are usually seedy orange. With only one flag and one C-stand in our kit, however, I had no choice.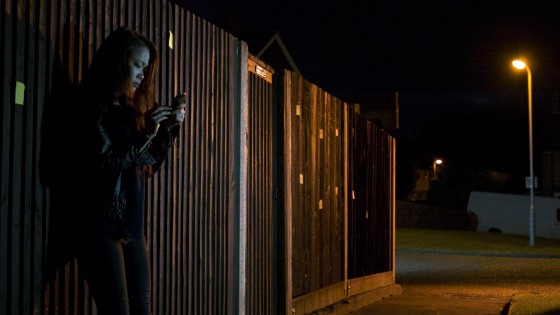 Fortunately there were no streetlamps close enough to spill light onto our character, Faith (Haruka Abe) – they were only creating pools of light in the background, which helped add depth. I used one in particular to motivate a strong backlight, in reality generated by the Arrilite, gelled of course with Urban Sodium (Lee no. 652).
For colour contrast, an LED panel set to 5,600K threw in a little "moonlight" from the side. The second panel, also set to daylight, was positioned to light the deep background. It was so handy, as I raced to rig our final set-up before wrap, to be able to slap a V-lock battery on one of these panels and move it across the street in seconds.
When Other Faith appears on the scene, she's keyed by a Dedo covered with tough-spun diffuser and the characteristic Medium Blue/Green gel. My favourite shot of the night was her close-up:
Emulating the beautiful contrasty look of the TV show Fringe, I eliminated all fill light to put one side of her face in crisp, black shadow. An LED panel backlights her hair, while the Urban Sodium-gelled Arrilite rakes across the fence in the background.
Eliminating the fill was unexpectedly difficult – a downside of using a sensitive camera. The slightest bit of bounce would contaminate the blacks, as did a faux period streetlamp in the adjacent garden. It's hard to figure out where unwanted light is coming from when it's so dim that your naked eye can barely perceive it.
Forever Alone is now wrapped, and Jordan's beginning the processes of editing and adding extensive visual effects. Personally I've learnt a lot about how far a camera be pushed, specifically the Blackmagic Cinema Camera. Many of the wide shots I've reviewed are under-exposed (partly due to our widest lens being relatively slow) but the raw data allows the exposure to be bumped up in post without them looking nasty.
What's the most you've ever had to push a camera?