Smoke looks cool, I think we can all agree, but why? What are we trying to achieve when we spray a set with smoke?
In the famous cinematography manual Painting with Light, John Alton says of the cinema experience: "We sit in the dark looking at a light screen; this gives a definite feeling of depth. In order to continue this depth on the screen, the progression from dark to light must be followed up. The spot which should appear to be the most distant should be the lightest, and vice versa…"
Smoke can help you accomplish this dark-to-light depth. Because it's white, if you spray it in the background then the background will get lighter, while the foreground will remain crisp and contrasty. It's like standing on top of a hill and looking at more hills receding into the distance. The more distant ones are lighter, less saturated, less contrasty because of the atmospheric haze.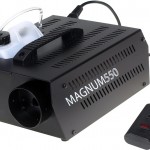 There are a number of ways to produce smoke. I own a Magnum 550, a small electric machine designed for DJs but perfectly useable on set. The smoke fluid is electrically heated until it turns to gas. On Ren we have an Artem smoke gun which uses propane gas cans to heat the smoke. This is handy on location because it doesn't need a power supply, and it can produce thick clouds of smoke much more quickly than the Magnum.
You have to wait for both of these types of machine to heat up before you can use them. Ideally you need a dedicated crew member who is predicting when you might be ready to shoot and heating up the machine in readiness. If you're outdoors, they also need to stay on top of the wind direction. You may think this would stay fairly constant, but trust me, it doesn't.
Both types of machine produce wreaths of smoke which usually needs wafting in order to look like general atmosphere. And consistency is a challenge. It's tricky not to have long takes that start with a lot of smoke and end with none. Both types of machine are too noisy to run during a take, though the sound recordist may agree to let you run an electric machine during pauses in dialogue, and an Artem can continue producing smoke for a little while after the gas is turned off.
If you're indoors, a hazer may be more appropriate. This is an electric machine that uses compression rather than heat to vapourise the fluid, then blows it out continuously through a fan. The effect is much more subtle and constant than that produced by a smoke machine.
However you're generating your smoke, remember to keep it in the background as much as possible. It's all about making your subject stand out from the background.
You can find out more about smoke and why I use it in my Ren podcast at www.rentheseries.com/news/ren-podcasts.