Sorry, I know I promised this several posts back, but here at last is my review of the Proaim shoulder rig I recently purchased for my Canon 600D. It's available in several different configurations, but I went for "Kit 3 + cage" which cost a little under £700 all told.
The main reason I wanted it was to address one of DSLRs' key flaws for video work: the handling. They're small – meaning shaky shots – and not designed for using in the kind of positions a moving image camera operator needs. By bracing the camera against your body, a shoulder rig steadies the shot. Of course it will never eliminate the movement of the human body completely, but rather than a shake it will give you more of a sway which viewers will subconciously recognise from handheld TV and film and associate with big, expensive cameras (which all sit on your shoulder, of course).
But with Proaim's "Kit 3 + cage" you get more than just a shoulder mount. You get a complete rail system which you can reconfigure to your heart's content, a matte box, follow focus and a top handle. While researching the system online, I found many people complaining about the build quality – many of whom had never used one, it must be said. Obviously it's not as robust as its more expensive counterparts, but it all seems solid enough to me. It takes a bit of getting used to, as many of the parts bump into each other if you try to configure them in certain ways, but this is a small price to pay for the flexibility of the rig overall.
Let's look at the rig in more detail from front to back. The matte box contains two filter trays which can be rotated (but not separately, unfortunately) and is equipped with side and top flags. The trays take standard 4×4″ filters, which are pricey, so I currently have a cheap Cokin-compatible graduated ND sellotaped into one of my trays!
The follow focus is perhaps the most useful part of the set-up. Various different gears are provided which slip onto your lenses' focus rings and mesh with the gears in the follow focus unit itself. When you turn (or, more to the point, your focus puller turns) the knob on the side, it therefore drives the focus ring – or indeed the zoom ring, if you wish to configure it that way. You also have the option of connecting a crank or a whip (flexible shaft) to the knob (oh dear, it's all getting a bit Carry On), the idea being that whatever strange position the camera is in and whatever moves it has to do, your camera assistant can still hit their focus marks without getting in the way. And I can confirm that this system works just fine even if you're using lenses whose focus rings move back and forth as they're turned.
Coming to the camera mount itself, there is the usual quick-release plate that screws into your DSLR's tripod thread. On the 600D, this covers a small portion of the battery cover – just enough to prevent it opening. As per this review's advice, I filed out a recess in the quick-release plate and the battery cover now opens. On the bottom of the rig is another screw thread so you can attach your tripod's quick-release plate and easily put the whole thing onto sticks.
I've attached the top handle just behind the camera, to stop it getting in the way of the follow focus. Two extra railing tubes are provided (not pictured) and can be mounted either at the side or on the top, and a basic suspension mount for a shotgun mic is also supplied (again, not pictured).
At the back is the shoulder pad, which isn't the most luxurious but seems comfortable enough, and a bracing arm folds down to put some of the weight against your stomach and side. However, this doesn't stop the rig from being very front-heavy and tiring to hold up for more than a few minutes at a time. In a later post I'll explain how I overcame this problem.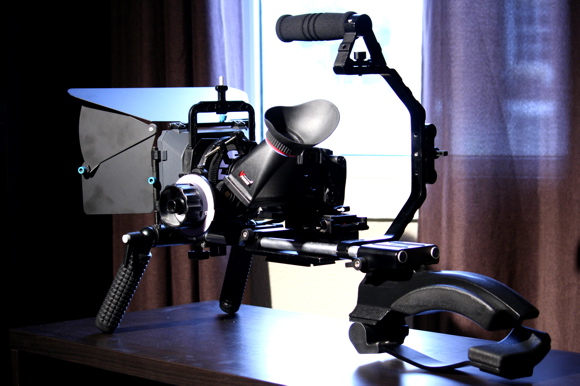 All in all, I really like this rig and look forward to doing my first proper shoots with it next week. The value for money is excellent, and it completely transforms my little stills camera into a proper, workhorse video camera.