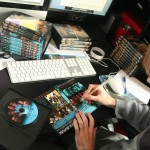 You can say what you like about digital distribution, but nothing beats the feeling of opening a box of DVDs fresh from the duplicators, all packaged with lovely covers and on-disc artwork. The download generation will really miss out on an experience there.
Yes, today the DVD dupes of Video8 and The Dark Side of the Earth: Making the Pilot arrived, so I spent the morning signing them, parcelling them up along with thank you notes and posting them to the Stop/Eject sponsors. If you contributed £50 or more and you haven't given Sophie your address yet, then please do so because you're missing out on your well-earned rewards otherwise.
The other thing that happened today is that Soul Searcher's five year distribution deal expired. If you're interested to know how that worked out for me financially, just click on the donate button to the right and you'll get access to an in-depth video on the subject.
As for the film's future, I can now reveal that Soul Searcher will be online to view in full for free from next Monday Februrary 6th. Watch this space for the link.
In the mean time, here's another DVD extra that never made it to the disc…