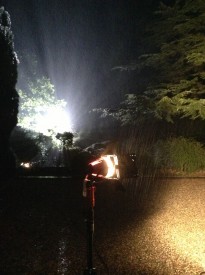 As a cinematographer, the idea of shooting at night, working from a blank canvas, can be very appealing. As a director or producer comparing your schedule to the limited hours of daylight we have at this time of year, it can also seem tempting to shift things to after dark. By all means do so; it will probably look great on screen, but do consider the following things first…
Let's not beat about the bush: it's unpleasant. Human beings are not built to work in the dark. It's usually cold and when it rains as well it's one of the most depressing experiences you can have on a set. If you shoot at night, morale will suffer.
It's slow. People don't work as fast at night, because they're tired and cold and they can't see what they're doing very well. Also everything has to be lit, which is very time-consuming. Expect to get about half as much done as you would during the day.
Location owners may not like it. Most premises will be closed at night, which usually makes it easier to film there, but the location owners will need to find a member of staff willing to stay up all night and keep an eye on the place. Could be expensive.
Power can be an issue. You'll be using lots of lights, and homes and businesses you might normally run power from will not be so readily accessible after hours. You're probably in generator territory, which means hire costs, transportation issues, refuelling, annoying trip-outs even though you're drawing a full kilowatt less than the generator's alleged maximum load… and of course nightmares for the sound department.
Other logistical things which are straightforward in the daytime can prove difficult at night, like catering and access to toilet facilities. Crews need a lot of hearty, hot food to  get them through the night, but who's going to cook it or warm it up at 2 o'clock in the morning? Hot beverages should also be in plentiful supply.
Many buildings have some kind of external lighting than comes on at night, either on a timer or motion-activated. The DP is unlikely to want that on, so the locations department must ensure access to the switches.
Generally locations will be quieter at night, but beware of drunken revellers, street-cleaning machines and automatic systems that kick in in the middle of the night.
On A Cautionary Tale ,we have a script that is set entirely in daylight, but in order to fit it all into three days of shooting, some of it will almost certainly have to be done after dark. The most important question must always be: is it right for the story? In our case, with the film's supernatural undertones, I think darkness can only add to the atmosphere.