You learn something with every job you do. On last weekend's intensive shoot for Field Trip, I learnt a hell of a lot. Aside from one day filming the Wasteland trailer and a morning filming a corporate, it was my first use of my new Canon 600D and Pro Aim shoulder rig. Four days, up to seventeen hours each day, and every shot handheld: I could not have asked for a tougher crash course in HD-DSLR cinematography.
The director wanted a documentary style: lots of ad-libbed camera movements including crash zooms. It quickly became apparent that SLRs are not the right format for such a style, prone as they are to the rolling shutter "jelly" effect, and given that the lenses we were using noticeably adjusted the exposure – even in manual mode – whenever we zoomed. So that was the first lesson: choose your camera to fit your movie, and don't just follow the crowd.
Aside from that, perhaps the key thing I realised is that I've bought into a system, a system which I can adapt to my needs and finances. This is true of both the rig and the camera. In the case of the former, I left off the follow focus and frequently the matte box and sunshades too, since these slowed down lens changes and made it harder for me to pull focus on the fly.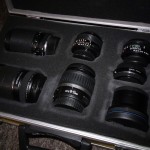 With the latter, lenses were the big revelation. To keep costs down, I didn't purchase any lenses with my camera. I already owned Canon's basic 18-55mm and 55-250mm zooms, and an adaptor would allow me to use my old 28, 50 and 70-210mm Minolta lenses too. None of these are particularly great, and crucially none of them are very fast. When I borrowed some f1.4 andf f1.8 primes from a helpful runner, I was blown away by the tiny depth-of-field. Conclusion: I'm wasting my camera's potential with my current set of lenses, and I must get hold of some nice fast ones pronto.
Other things learnt or reinforced on Field Trip include: always make very sure the data has all been transferred before you wipe a card; you get what you pay for (one of my cheap third party batteries packed up); and I need some nice ND filters.
As ever, you'll be the first to know when I get the new kit and how it stacks up. Thanks to James Byrne for the Field Trip photos.