Back in 2003 when I was developing Soul Searcher, I tried my hand at making a videomatic for the first time. A videomatic is a kind of previsualisation, like a moving storyboard that shows not only the camera angles but the pacing as well, and often gives an idea of how the music and sound effects will work with the scene and what the VFX requirements will be.
Nowadays previz is usually CGI, but back in the day it was not uncommon to build crude miniatures of the props and people in a scene and film the previz in the form of a videomatic using a camcorder or lipstick camera. Pat McClung and co, when prepping James Cameron's Aliens, made Drop Ships and APCs out of cardboard boxes and pulled them on strings through landscapes formed from rumpled paper and blankets. A decade later, when planning his deep dives to the Titanic wreck, Cameron had his team build a model of the ship and like-scaled models of the submersibles, so he could previz the shots they needed to get on the ocean floor. Phil Tippett went to the trouble of animating Jurassic Park's previz in beautiful stop motion, demonstrating not only the angles and movement Spielberg wanted for the real scenes, but the lighting as well. Even Peter Jackson's cutting edge Lord of the Rings trilogy employed cardboard mock-ups and a video camera to previz the flooding of Isengard.
In that fine tradition I attempted this videomatic for Soul Searcher: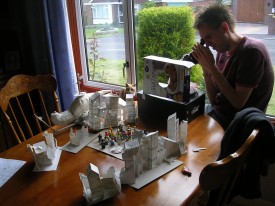 Looking back on it now, it was quite a lazy attempt and suffered greatly from the poorly drawn storyboards, which are very hard to interpret, especially when bits of them are cut out and pasted onto the live action footage. Although I found making this videomatic very useful for my own process as director, and many of the Lego train shots were cut into the film during post-production until the final miniature shots were ready, it wasn't much use for showing other crew members what work needed to be done. In fact, when I brought the model-makers on board in 2004, I decided to draw a new set of nice, neat storyboards rather than show them the videomatic.
My videomatic skills improved, however, and by 2006 I was shooting a series of them for my new feature project, The Dark Side of the Earth. You can view some of them here.