It's high time for an update on the progress of Stop/Eject, my magical and moving fantasy-drama about a tape recorder that can stop and rewind time.
First up, thanks to the auctioning-off of a hat worn by lead actress Georgina Sherrington (The Worst Witch), our fundraising total has crossed the £1,200 mark. That means we're over 80% of the way to our £1,500 target. It also means that the last in our series of behind-the-scenes podcasts from the set of Stop/Eject has been released.
Down in Hay-on-Wye, editor Miguel Ferros is hard at work cutting Stop/Eject itself. I went down there on Tuesday and had a sneak peek at the first few minutes, which is already streets ahead of the version I edited. A fresh pair of eyes is indeed a very valuable thing at this stage in a film's creation.
Meanwhile, I've also been editing – editing Record & Play: The Making of Stop/Eject, a 30 minute documentary which will form the centrepiece of the DVD and Bluray's bonus features. Several brand-new interviews have been filmed for this, including one with Georgina. At the same time we interviewed her on another subject, and we hope to be revealing this soon as an exciting new reward for sponsors.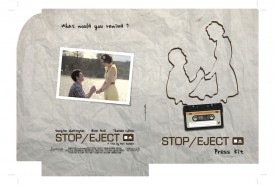 Alain Bossuyt, who won our poster design competition earlier in the year, has adapted and expanded his eye-catching design into a folder for the press kits. Although it will probably be quite a while before these kits are needed, it's always useful to have them around just in case. You can find out more about Alain and his work (with the help of Google Translate) at leplanb.fr
Another designer, Andy Roberts, who did all the graphics for the Worcestershire Film Festival, is busy laying out the illustrated script book for those sponsors who selected the Unit Publicist reward. I'm looking forward to seeing what he comes up; I'm sure it will be a fantastic souvenir. Andy's website is at speakersfive.co.uk
This afternoon I was interviewed by Toni McDonald on BBC Radio Hereford & Worcester. If you missed it, you can listen to it online. My part is about 2 hrs 45 mins into the programme.
And on Tuesday, Stop/Eject's trailer will be screened at the Underwire networking event in Wolverhampton, along with the trailer for producer Sophie Black's own short film, Ashes. Tickets can be bought online for £5.
Remember – apart from the hat, which was of course a one-off – all of the sponsor rewards mentioned above are still available. So if you want to secure yourself a copy of the DVD or Bluray, bag a ticket to the premiere or get one of the illustrated script books, head on over to stopejectmovie.com/donate and make your contribution.