Hooray! We've smashed through our crowd-funding target for post-production of Stop/Eject!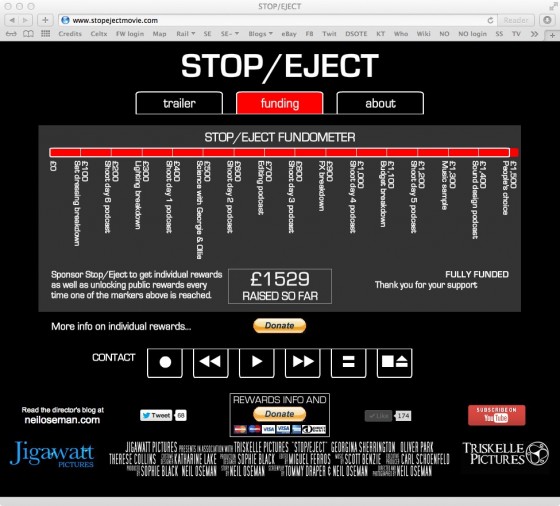 Huge thanks to everyone who's contributed since we launched our first campaign back in November 2011. Across the two campaigns you've given us almost £4,200. Without it, Stop/Eject could never have been made.
As well as reaching our grand total we've passed two public reward targets. The first one, the sound design podcast, you'll have to wait a little while for, as work on this aspect of post-production has yet to begin. The second one is the People's Choice Reward, so leave us a comment on the Stop/Eject Facebook page with your suggestion of what we can create and upload as a thank you for all your donations.
If you've been meaning to donate but haven't got around to it yet, we're keeping the rewards open for one more week. That means you've got until midnight on February 7th to secure yourself an invite to the premiere, a copy of the DVD or Bluray, an illustrated script book or any of the other lovely goodies. After this date these gifts will never be available again. (We hope the film will be available to buy in some form or another after its festival run, but that's a couple of years away at least.)
The other big Stop/Eject news this week is that we've locked the edit, which is a watershed moment in the post-production of any film. Stay tuned for more info on that soon.