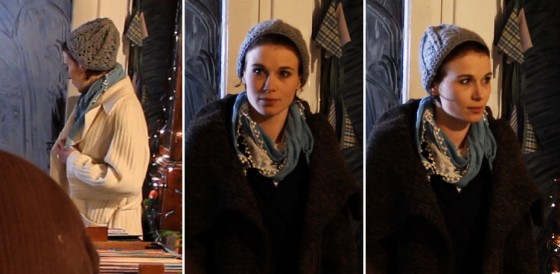 We're auctioning off the hat worn by Georgina Sherrington in a scene in Stop/Eject, with all proceeds going towards finishing this short fantasy-drama. To bid, comment on the photo on our Facebook page (click here), stating the amount in UK pounds.* The auction ends at 7pm GMT on Thursday December 6th.
The hat appears in a winter scene in Stop/Eject, as Kate (played by Georgina Sherrington of The Worst Witch fame) enters the mysterious charity shop on a cold December day to once again use the time-travelling tape recorder. Behind-the-scenes footage of Georgie wearing the hat can be seen in this podcast from day two of the shoot:
"I had discussed colours with Neil," explains Katie Lake, Stop/Eject's costume designer, "and we liked the idea of yellow and blue for Kate – more yellow when she was happy, and more blue when she was sad. For the winter scene, as it was set in the darkest days of Kate's emotional journey, I knew I needed to dress her in dark or drab colors. I had chosen a navy dress, but wanted to avoid making her look like she was dressed for a funeral, so when I found an off-white coat, I knew a light or medium grey hat would be perfect. The lighter colours wash out pale skin, like Georgie has, making her look even more drab and depressed."
The hat was handmade especially for the production by Kerryblueknits, a New England-based crafter. "I have knit many a custom hat, but this was my first for a film," says Kerry. "It was really exciting! Katie wanted a small hat, in light or medium grey, and something that an artsy person would have. At first she was thinking something slouchy, but that can be hard for petite women to pull off. We decided in the end on this beautiful lacy pattern – something that a young professional might have gone for, but in a subtle color."
Kerry knitted the hat with an 85% wool/15% alpaca yarn. It is a size small and should be hand-washed and lain flat to dry.
Click here to place your bid, and be sure to check out Kerryblueknits on Etsy, where Kerry has a range of lovely hats, scarves and cowls perfect for any men or women in your life who need warming up this winter. She's also more than happy to knit you a custom hat; prices start at $35.
* Shipping/postage will be charged at £2 (UK) or £4 (rest of world) on top. The winning bidder will be instructed how to pay via the Stop/Eject website. If he/she doesn't pay within 48 hours of the auction ending, the hat will be offered to the next highest bidder. Bids received after the closing time will not count. Direct message the Stop/Eject Facebook page to bid anonymously.