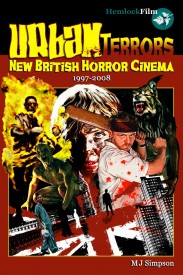 Last year I was contacted by scriptwriter, author and SFX Magazine contributor MJ Simpson, who was writing a book called Urban Terrors: New British Horror Cinema 1997-2008. Although I describe my 2005 feature Soul Searcher as a fantasy-action movie, it does have some elements in common with the horror genre, most notably the character of the Grim Reaper, and so Mike was keen to give it a mention in his book.
Urban Terrors is released this Saturday, December 1st, and can be bought online or on the highstreet from The Cinema Store and Forbidden Planet. Order before Saturday to get it at the discounted price of £15.25 (normally £17.95).
You can also read an interview Mike conducted with me, in which I discuss the making of Soul Searcher, on his website mjsimpson.co.uk
Here's the blurb on the book, and remember that you can watch Soul Searcher in full for free at neiloseman.com/soulsearcher.
By the late 1990s, the Golden Age of British Horror Cinema was long gone. But like all the best monsters, the genre has risen from the grave and in the 21st century is going from strength to strength.

Developments in video technology and changes in distribution have seen a ten-fold increase in the number of British horror films made and released each year. From major studio pictures like 28 Days Later and Shaun of the Dead to cult indies like Freak Out and The Last Horror Movie, the new millennium is a boom time for home-grown horror. And many of these new films are contemporary, socially-relevant tales reflecting life in modern Britain; instead of creepy castles, their monsters and psychos stalk housing estates and tower blocks…

Urban Terrors is the first book to fully examine the British horror film revival, documenting and analysing the more than 100 movies that were commercially released between 1997 and 2008. It reveals how the changes in technology have enabled more people to make films, how changes in distribution – from VHS to DVD to VOD – are enabling more people to watch them, and how the mainstream media has failed to spot and comment upon this largely-undocumented phenomenon. And it examines how these new kinds of horror films have dealt with issues like disenfranchised youth, class division and social exclusion…

 'One of the UK's foremost horror critics – what Mike Simpson doesn't know about horror is not worth knowing.' –film director Johannes Roberts