Last night we launched a special collection of new rewards for Stop/Eject sponsors. Available only until midnight next Friday, these rewards are already going fast, so grab yours quickly before they're all gone. At the time of writing, a screen-used poster, one personalised cassette and four t-shirts are still available.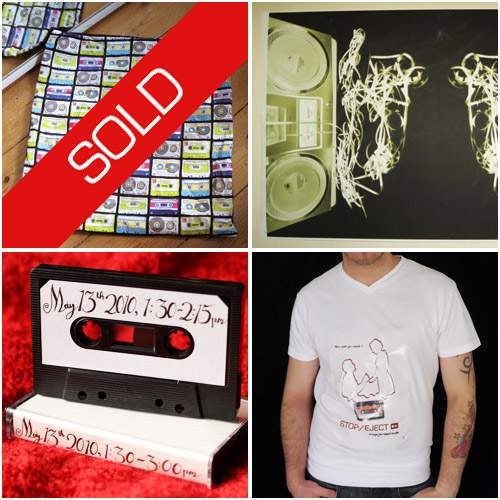 In the top right is the genuine poster seen behind Georgina Sherrington (Kate) and Oliver Park (Dan) in the living room scenes of Stop/Eject, signed on the back by yours truly. At bottom left is a unique opportunity to have one of the screen-used cassettes from the film relabelled and beautifully calligraphed by Sophie Black with a date and 90 minute time segment of your choice (though please note the tape is actually only sixty minutes long). There's only one poster and one personalised tape available, so don't miss your opportunity to scoop them up.
Bottom right is a Stop/Eject t-shirt featuring Alain Bossuyt's competition-winning poster design. These are printed to order in your size, and we only have four more available at the time of writing. Thanks to Sam Tansley for modelling this.
Visit stopejectmovie.com/collection now to make your donation and claim your reward.