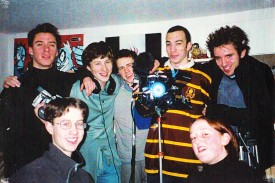 Fifteen years ago I made my first professional film, Traction. Okay, it wasn't professional in the strictest sense – I wasn't paid – but I racked up a number of important firsts on the project and learnt a lot. Based on a true story, it's about a teenaged boy undergoing traction for his juvenile arthritis.
Today you can go out and make a film on your smartphone and reach an instant audience via YouTube, which is great, but you need to collaborate with others if your work is ever going to reach its full potential. Here's how Traction challenged and improved me.
First time having a production company to answer to. Traction was produced by The Rural Media Company as part of its youth media programme, in which I was a participant. It was a completely new experience for me to have to submit a draft script and take on board the feedback of the company's senior staff. I was probably resistant at first, but their advice was good. You're not compromising your artistic vision by asking for and acting on feedback from others, you're making it stronger. And when you work with a budget, you will always have to answer to the people supplying that budget, so get used to arguing your case and sometimes losing.
First time directing anyone other than my friends. I had to learn to be clearer and more communicative to get the best out of the other young people who were acting as my crew. They were all into the project far more than my corralled schoolfriends had ever been into my amateur films, which was great and really energising for me as a director.
First time directing anyone with acting experience. How to work with actors is something I'm still learning to this day, but the process started right there in 1999 when I ran my very first audition at Hereford College of Art and then directed Rowan Middleton for the two days of the shoot. It's been said many times by many people, but don't just cast your mates in your films. Unless your mates are really good actors and right for the parts. Obviously.
First time having to stick to a schedule. Although the only costs of Traction's production were travel and catering expenses, and the youth worker's fee, I still had a responsibility to ensure that Rural Media did not have to pay for more than the agreed two days' worth of those costs. This forced me to be prepared, disciplined and ready to compromise when time ran short. Staying on schedule is always a challenge for a director, and the sooner you can start to learn this skill, the better.
First time shooting on digital video. Traction was a great opportunity for me to learn a new medium, having worked exclusively on the analogue Video-8 format up to that point. Most filmmakers own a camera, but have you considered hiring or borrowing a better model for your next project? Push yourself, learn to use a new bit of kit and raise your production values at the same time.
First time using lighting. Many new filmmakers are scared of lighting, and I probably was too before Traction. Don't be afraid to experiment; it's one of the best ways to learn.
First time having to use only copyright-cleared music. If you're only posting your films on YouTube, you can get away with using copyrighted tracks and the system will just put an iTunes link under your video. But dipping into the vast catalogue of pre-existing music can make you lazy. Why not advertise for a composer – there are so many out there desperate to get a start in film scoring – and get some original music for your piece?
First time being limited to a final running time. Traction was made for a competition which had a strict five minute time limit. Nothing sharpens your editing skills more than a hard running time limit, and for that reason I'd recommend that every filmmaker try entering a competition at some point in their career.
If you're a new filmmaker trying to raise your game, ask yourself if you've pushed in every direction you can to improve your work, or are you stuck in your comfort zone?