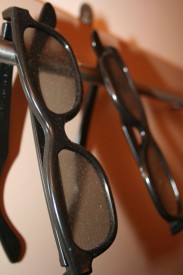 [Voice of Majel Barrett-Roddenberry] Previously on neiloseman.com: I hate 3D.
And now the conclusion: So does everyone else. I was delighted this week to read a very interesting article about 3D on Shadowlocked.com It's a very well-reasoned argument against the proliferation of 3D cinema, so no regular readers will be surprised that it struck a chord with me.
What particularly grabbed me was the news that audience figures are declining for 3D screenings. To give just one example, 2010's Shrek Forever After made 60% of its opening weekend box office from 3D screens, whereas this year's Kung Fu Panda 2 made only 45%. Anecdotal evidence seems to suggest that the headaches, uncomfortable glasses and dimmer projection are putting people off. Many people around the globe are working hard to design and implement improved 3D projection that eliminates these problems, but now it seems there is a real chance the 3D bubble may burst before they succeed.
It's also worth reading Christopher Nolan's thoughts on the subject. "The truth is, I think it's a misnomer to call it 3D versus 2D," he says. "The whole point of cinematic imagery is it's three-dimensional. … You know, 95% of our depth cues come from occlusion, resolution, color and so forth, so the idea of calling a 2D movie a '2D movie' is a little misleading."
After Cannes this year I was certain that the bell had tolled for 2D films (I'll keep using the term for clarity, despite Nolan's excellent point above) but now it seems the tide might be turning – something I hadn't dared to hope for. Perhaps 2D might just win this war after all.
DEATH TO 3D! DEATH TO 3D! DEATH TO 3D!
Oh, and joy to the world and merry Christmas and stuff.