We've all heard the shocking statistics about the tiny proportion of DPs who are women. So when you watch film and TV, sadly, you might assume that you're always watching the cinematography of a man. Today's post encourages you to think again.
To mark International Women's Day, I'm highlighting the work of seven female DPs who are lensing mainstream productions, and whose cinematography you've probably seen. All of these women are great role models for aspiring DPs.
Sharon Calahan, ASC

Raised in the USA's Pacific Northwest, Calahan studied advertising art, illustration, and graphic design. Her first job was at a TV station, where she worked as an art director but also got involved in lighting sets. She joined Pixar just as the company was starting out, becoming the lighting supervisor on Toy Story, before graduating to director of photography for A Bug's Life, Toy Story 2 and Finding Nemo. In 2014, Calahan became the first DP working purely in CGI to be admitted into the American Society of Cinematographers. By this time, her extensive experience of studying and mimicking natural light had led her to take up landscape painting, and for Pixar's next release, The Good Dinosaur, director Peter Sohn used Calahan's landscapes as the visual template for the entire look.
Anna Foerster, ASC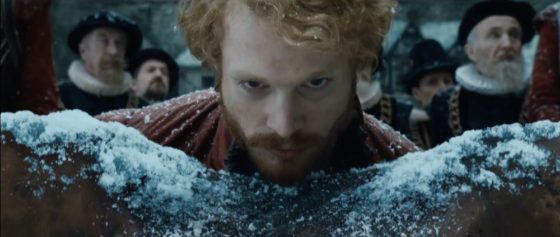 A German cinematographer and director, Foerster is perhaps best known for her collaborations with her fellow countryman Roland Emmerich. After working as an FX unit DP for him on Independence Day and Godzilla (1998), then second unit DP and director on Tomorrow and 10,000 BC, she graduated to first unit DP on Anonymous and White House Down. Anonymous is an independent historical thriller suggesting Shakespeare's plays were actually written by Lord Oxford, while White House Down is of course an all-out action thriller. On the latter, Foerster came up with a number of clever tricks to hide the lighting units from the wide lenses she favoured. She also worked hard to sell the sound-stages that most of the movie was shot on as real day-lit interior and exterior locations. Foerster's directing credits include Underworld: Blood Wars, and episodes of Outlander and Criminal Minds.
Sue Gibson, BSC
Derbyshire-born Gibson developed an interest in photography at the age of fourteen. She studied at Newport College of Art, then at the National Film and Television School (NFTS), graduating in 1981. After starting out in commercials, she shot her first feature, Hear My Song, in 1989, which won The Evening Standard Award for Technical Achievement. Her other feature credits include Mrs Dalloway and – in a very different genre – second unit on Alien vs. Predator. She worked extensively in British TV, particularly murder mystery, lensing episodes of Poirot, Marple, Lewis, Spooks and The Forsyte Saga. In 1992 Gibson became the first female member of the British Society of Cinematographers, and later served as its president between 2008-2010. She passed away last summer, and was posthumously awarded The Philips Vari-Lite Award for Drama at The Knight of Illuminations Awards for two of her Death in Paradise episodes, her final work.
Ellen Kuras, ASC
Born in New Jersey, Kuras studied photography and 8mm filmmaking after university, with a view to becoming a documentary filmmaker. After lensing the award-winning short doc Samsara: Death and Rebirth in Cambodia, her career diversified to eventually include such big-budget features as Blow and Analyze That. Kuras has also collaborated twice with French director Michel Gondry. In Eternal Sunshine of the Spotless Mind, she used her documentary background to put the realism into Gondry's magical realism, with handheld cameras and naturalistic lighting. But she brought the magic too; for example, using a camera-mounted spotlight for a tunnel vision effect during the sequence in which Jim Carey and Kate Winslet try to hide within Carey's memory. Although more classically composed, 2008's Be Kind Rewind was similarly creative, featuring low-fi VHS recreations of big movies, and a memorable montage captured in a single developing shot. Kuras' many awards include an unprecedented hat-trick of Best Dramatic Cinematography gongs at Sundance, and an Oscar nomination for The Betrayal – Nerakhoon, a documentary feature she directed.
Suzie Lavelle, ISC
Lavelle is an Irish DP who studied at NFTS before entering the TV industry as an AC. Her sumptuous, colourful and contrasty lighting has featured in some of the BBC's most high-profile TV dramas. "The Abominable Bride", her Sherlock outing, was nominated for a Primetime Emmy in 2016. "Cold War", her contribution to Doctor Who's 2013 season, is one of the best-looking and most atmospheric episodes the venerable series has ever produced. And, along with James Mather, she swept away the dull photography of Ripper Street's first two seasons and established the much moodier style for season three that would continue for the rest of the show's run. Lavelle's other TV credits include Vikings, The Living and the Dead, Endeavour and Jekyll & Hyde, and she photographed the award-winning features One Hundred Mornings and The Other Side of Sleep.
Urszula Pontikos, BSC
Hailing from Gdynia in Poland, Pontikos has photographed a number of indie features, including Weekend, Second Coming and Lilting. The latter won her the Cinematography Award for World Cinema (Dramatic) at Sundance 2014, but she's also shot some of the most interesting British TV shows of recent years. Despite a self-confessed nervousness about the scale of the show's night exteriors, Pontikos delivered confident, slick and atmospheric cinematography for BBC 1's Cold War spy thriller The Game in 2014. The following year she photographed the first two episodes of Humans, setting the style for this hugely popular C4 sci-fi drama. She employed unusual eye-lights, symmetrical composition and linear camera moves for scenes featuring the robotic "synths". Her other TV credits include the crime dramas Glue for E4 and Marcella for ITV.
Mandy Walker, ACS, ASC
Born and raised in Melbourne, Walker got her first industry contacts from a short film course she took after graduation. Persistently calling these contacts yielded some unpaid work and her first feature at the age of just 25. More Aussie features followed, until a Chanel Nº 5 commercial with Baz Luhrmann and Nicole Kidman propelled Walker into the big-time with an epic drama, entitled – of course – Australia. Since then, Walker has lensed the likes of Natalie Portman (Jane Got a Gun) and Robert Redford (Truth). Her latest release is Hidden Figures, an inspiring and important drama about African-American women who worked on Nasa's space programme. Walker used subtle techniques to enhance the themes of racism and sexism, like placing the camera below the heroine's eye-lines so that they were always looking up at the white men. Hidden Figures is in cinemas across the UK right now, and I highly recommend it.
That's all for now, but some other great DPs to check out are Charlotte Bruus Christensen (The Girl on the Train), Uta Briesewitz, ASC (The Wire) and Cynthia Pusheck, ASC (Magnolia).