For International Women's Day in 2017 I wrote about "seven female DPs you didn't know you've been watching". Since then I'm happy to say that both the number and visibility of women behind the camera seem to have improved, though there's still a long way to go before equality is achieved. So here, on the eve of this year's IWD, are seven more female DPs whose work has caught my eye.
Natasha Braier, ASC, ADF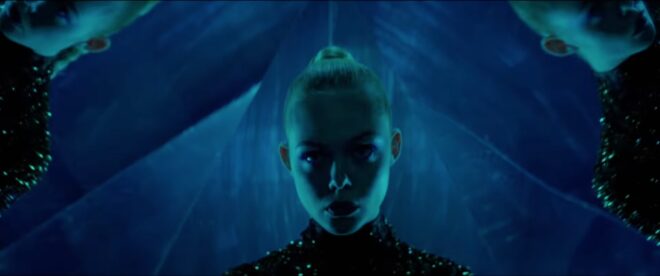 Braier is best known for Nicolas Winding Refn's The Neon Demon. On this film she began to develop a unique technique she calls "lens painting", whereby she creates a custom filter for every shot by applying a range of substances (presumably onto an optical flat). "I have a whole set of five suitcases with different materials, different powders and liquids and glitters, things like that," she said in a 2020 interview. Braier's other features include Amazon Original Honey Boy, and she's currently shooting the pilot of American Gigolo for Paramount. Her awards include several for commercials and three for Neon Demon, and she was number 15 on The Playlist's "50 Best and Most Exciting Cinematographers Working Today".
Catherine Goldschmidt
Born in California, raised in New Jersey and now based in London, Goldschmidt studied cinematography at the American Film Institute. Her credits include episodes of Doctor Who, A Discovery of Witches and new Amazon series Chloe, as well as the upcoming Game of Thrones prequel House of the Dragon. She has provided additional photography for the features Hope Gap (shot by another female DP to watch, Anna Valdez Hanks) and Spider-Man: Far from Home, while her short-form work includes the Qibi comedy series Dummy starring Anna Kendrick (impressively framed simultaneously for 16:9 and 9:16 aspect ratios). Goldschmidt founded the female DPs' collective Illuminatrix along with Vanessa Whyte.
Magdalena Gorka, ASC, PSC
Gorka is a graduate of the Polish National Film School. I remember seeing her on a panel at Camerimage in 2017. She talked about how getting the look right in camera was important to her, because she worked on low-budget productions and she didn't always have control in post. These days she's shooting Star Trek: Strange New Worlds so presumably the budgets have gone up a bit (though who knows about the control). She also lensed the entire second season of Netflix Euro-thriller Into the Night, several episodes of underdog superhero saga Doom Patrol, feature films including Bridesmaids and Paranormal Activity 3, and music promos for Katy Perry and Elton John. Gorka was recently welcomed into the American Society of Cinematographers.
Kate Reid, BSC
With a background in art and a year at the University of California under her belt, Reid studied cinematography at NFTS. After graduating she worked as a camera assistant under such DPs as Balazs Bolygo, BSC, HSC and Newton Thomas Sigel, ASC before rising to the rank herself. Her early work included documentaries like Years of Living Dangerously and award-winning shorts like Nazi Boots. She now shoots a lot of high-end TV, including episodes of Game of Thrones, action thriller Hanna, detective drama Marcella, and upcoming dark comedy The Baby from HBO. She was nominated for an ASC Award this year for "Hanged", her episode of Josh Whedon's sci-fi show The Nevers.
Nanu Segal, BSC
It was while Segal was studying chemistry at university that she became an avid cinema-goer and began to consider a career in this industry. "It seemed to offer the perfect combination of technical intrigue and artistry," she told Primetime. She subsequently attended film school and learnt from the likes of Seamus McGarvey, ASC, BSC and Sue Gibson, BSC. Segal has shot the features Marvelous and the Black Hole, Old Boys, The Levelling and An Evening with Beverly Luff Linn. Her shorts include Bit by Bit, For Love and All of this Unreal Time. She contributed second unit photography to Queen biopic Bohemian Rhapsody.
Ari Wegner, ACS
Wegner attended a Melbourne film school where she made shorts with fellow students in her spare time. She has shot commercials for brands like Apple, and TV series like The Girlfriend Experience for Starz. In 2017 she won a BIFA for period drama Lady MacBeth (gaffered by one of my regular collaborators, Ben Millar). Last month she became the first woman to win a BSC Award for Best Cinematography in a Theatrical Feature Film, for Montana-set drama The Power of the Dog. This, and the many other cinematography awards the film has scooped, are the just reward for Wegner's unprecedented year of prep with director Jane Campion. The pair took inspiration from another impressive and talented woman, turn-of-the-20th-century Montana photographer Evelyn Cameron.
Zoë White, ACS
White has shot 12 episodes of the multi-award-winning Hulu series The Handmaid's Tale, garnering Primetime Emmy and ASC Award nominations for her episode "Holly". "There's many ways to translate the way you want something to feel," she said in a 2019 interview about the series, "and there's a lot of gut instinct that comes with deciding what it is that you think is most effective for a particular moment." White also shot the pilot for Netflix drama Hit and Run, and two episodes of Westworld plus aerial photography for two more. Her indie work includes short psychological thriller The Push (winner of Best Cinematography at Brooklyn Horror Film Festival 2016) and coming-of-age drama Princess Cydney.