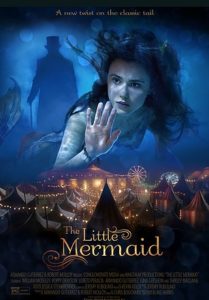 The Little Mermaid, an independent live-action take on the Hans Christian Andersen fairytale, is now showing in cinemas across the USA. To mark the release, over the next few weeks I'll be posting a series of articles about my cinematography of the film, using extracts from the diary I kept during production.
In this first instalment I'll focus on the "pre-shoot", two days of capturing the present-day scenes, undertaken a few weeks before principal photography began. For these scenes, we were all very excited to be working with bona fide Hollywood royalty in the form of Shirley MacLaine. Since debuting in the 1955 Hitchcock comedy The Trouble with Harry (and winning a Golden Globe), Shirley's career has taken in six Oscar nominations as well as a win for Terms of Endearment, plus an AFI Life Achievement Award, two Baftas, an Emmy and several more Golden Globes.
No pressure then….
Saturday
Shirley is installed at a five-star hotel in downtown Savannah for hair, make-up and wardrobe tests. Taking it easy at the studio, I get a call from the UPM telling me that Shirley wants to meet me. Nervously I transfer my lighting reference images (including screen grabs I gathered last week from her previous movies) to my iPad and await my car.
When I get to the hotel I bump into her and the rest of the crew in the hall. Plunging straight in, I shake her hand and introduce myself as "Neil Oseman, the DP". Evidently not hearing that last bit, and presuming I'm a PA or possibly a fan, she looks me up and down and asks me who I am. I repeat that I am the director of photography. "You're so young!" she exclaims, laughing at her mistake.
"Well, I've been doing this for fifteen years," I reply, all too aware of how short my career is compared with hers.
"Which pictures? Tell me," she says.
Again acutely aware that my credits list isn't going to sound very impressive to her, I mention Heretiks, and Ren: The Girl with the Mark and mutter something about doing lots of features.
To my great relief she doesn't press the point, instead asking what I think of the wig and make-up she's wearing. I ask her to step into the daylight, and assure her that it looks good, but that I'd like to warm up her skin tone a little with the lighting, an idea she responds well to.
Satisfied, Shirley moves on to other things, and I hang out in a meeting room at the hotel drawing storyboards, until it's time for a production meeting.
SUNDAY
I arrive on location before even the early crew call of 8am, with my gaffer Mike Horton. His and key grip Jason Batey's teams have rigged a dark box around the beach house's deck/balcony so we can shoot day-for-night interiors.
At 10am Shirley arrives, blocks the scene, then goes off to hair and makeup. We're starting with close-ups of her, so the grip and electric teams come in and build a book light. (This is a V-shaped arrangement of bounce and diffusion material, resembling an open book, which greatly softens the light fired into it.) When we start to turn over and Shirley watches playback, I'm gratified to find she is very happy with how she looks on camera. We shoot out all her close-ups, then bring in the little girls playing opposite her and block the wide shots.
As time begins to crunch, I fall back on cross-backlighting as a quick no-brainer solution to get the wide shot looking good. It's so important to have these lighting templates up your sleeve when the pressure's on. (Later on in this blog series I'll discuss the use of cross-backlighting in several other scenes in the movie.)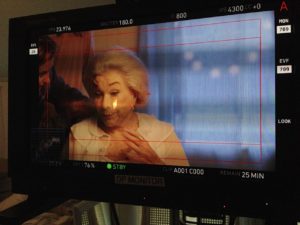 For a little while it looks like we might not make the day, but I suggest a way to maximise the beautiful beach view at twilight and get the story beats covered in one two-camera set-up. The shot feels like something out of a classic old movie. Shirley MacLaine walking off into the sunset! Everyone loves how it looks, including Shirley. The praise of an actor as experienced as her is high praise indeed, and it makes my day!
Monday
We start lighting for our "sunset" scene, which involves firing a pink-gelled 6K through the window and netting the background to get some highlight detail into it. Rather than a book light, this time I use a diffused 4×4 Kino Flo as Shirley's key. I take a risk and place it further off to the side to get a bit more shape into the light.
Shirley enters, takes one glance at the lighting and remarks, "So, you like this cross-light, huh?"
Busted!
We compromise by adding a little fill from a reflector which Shirley positions herself before each take. Her awareness of how she's being photographed is astounding. She knows more about lighting than some DPs I've met!
Looking at the scenes now, I realise that a large white horizontal reflector in front of Shirley would have been perfect to simulate bounce off the bed, which we moved out when we were shooting the close-ups. Hindsight is 20/20, but I'm still pleased with how it turned out.
Next week I'll break down the huge lighting set-up required for the night exterior circus scenes.