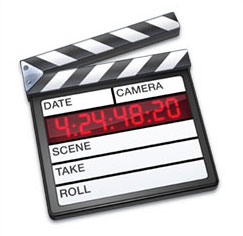 Recently, having put it off for as long as possible, I upgraded to MacOS High Sierra, the first new OS to not support Final Cut Pro 7. It was a watershed moment for me. Editing used to comprise at least half of my work, and Final Cut had been there throughout my entire editing career.
I first heard of Final Cut in early 2000, when it was still on version one. The Rural Media Company in Hereford, which was my main client at the start of my freelance career, had purchased a copy to go with their shiny Mac G3. The problem was, no-one at the company knew how to use it.
Meanwhile, I was lobbying to get some time in the Avid edit suite (a much hallowed and expensive room) to cut behind-the-scenes footage from Integr8, a film course I'd taken part in the previous summer. The course and its funding were long finished, but since so much BTS footage had been shot, I felt it was a shame not to do something with it.
Being 19 and commensurately inexperienced, I was denied time on the Avid. Instead, the head of production suggested I use the G3 which was sitting idle and misunderstood in one of the offices. Disappointed but rising to the challenge, I borrowed the manual for Final Cut Pro, took it home and read it cover to cover. Then I came back in and set to work cutting the Integr8  footage.
Editing in 2000 was undergoing a huge (excuse the pun) transition. In the back of the equipment storeroom, Rural Media still had a tape-to-tape editing system, but it had already fallen almost completely out of use. Editing had gone non-linear.
In a room next to the kitchen was the Optima suite. This was a computer (I forget what type) fitted with a low resolution analogue video capture card and an off-line editing app called Optima. In this suite you would craft your programme from the low-rez clips, exporting an EDL (Edit Decision List) onto a floppy disc when you were done. This you took into the Avid suite to be on-lined – recapturing just the clips that were needed in full, glorious, standard definition. You could make a few fine adjustments and do a bit of grading before outputting the finished product back to tape.
It wasn't practical to do the whole edit on the Avid because (a) hard drives big enough to store all the media for a film at full rez weren't really available at that time, and (b) the Avid system was hellishly expensive and therefore time on it was charged at a premium rate.
As I edited the Integr8 BTS on Final Cut Pro, I believed I was using an off-line system similar to the Optima. The images displayed in the Viewer and Canvas were certainly blocky and posterised. But when I recorded the finished edit back to tape, I couldn't quite believe what I was seeing. Peering through the viewfinder of the Mini-DV camera which I was using as a recording deck, I was astonished to see the programme playing at the exact same quality it had been shot at. This little G3 and the relatively affordable app on it were a complete, professional quality editing system.
I looked across the office to the sign on the Avid suite's door. It might as well have read: "DINOSAUR".
Within a few months I had invested in my own Mac – a G4, no less – and was using FCP regularly. The next year I used it to cut my first feature, The Beacon, and three more feature-length projects followed in the years after that, along with countless shorts and corporates. Using FCP became second nature to me, with the keyboard shortcuts hard-wired into my reflexes.
And it wasn't just me. Final Cut became ubiquitous in the no-/low-budget sector. Did it have its flaws? Definitely. It crashed more often than Richard Hammond. I can think of no other piece of software I've screamed so much at (with the exception of a horrific early desktop publishing app which I masochistically used to create some Media Studies GCSE coursework).
And of course Apple shat all over themselves in 2011 when they released the much-reviled Final Cut X, causing many loyal users to jump ship. I stayed well away from the abomination, sticking with the old FCP 7 until I officially quit editing in 2014, and continuing to use it for personal projects long after that.
So it was quite a big deal for me to finally let it go. I've got DaVinci Resolve installed now, for the odd occasion when I need to recut my showreel. It's not the same though.
Timelines aren't my world any more, light is, but whenever I look back on my years as an editor, Final Cut Pro's brushed-aluminium interface will always materialise in my mind's eye.