Last month saw the re-release of Reeltime Pictures' Daemos Rising, an unofficial Doctor Who spin-off film I photographed way back in 2003. It's lovely to know that the film is popular enough for a high street release after so much time, and watching it again brought back many memories. Let the sharing of these memories commence…
2003 was Doctor Who's 40th anniversary year, but the show had been off the air for over a decade and many fans, myself included, thought it would never return. In September I was weeks away from the start of principal photography on my second (and last) no-budget feature, Soul Searcher, but I was delighted to take a break from the stresses of self-producing to DP a tribute to the show I'd grown up with. "You won't hear anything more from me now for a week," I announced on my Soul Searcher blog on September 16th, "for I shall be ensconced in a cottage in a woodland area of Dorset (or possibly Devon – they're easily confused), shooting a Doctor Who spin-off film for Reeltime Pictures. As you do."
The location was in fact in Devon: the home of Ian Richardson, who has since sadly passed away. (Ian had an illustrious stage and screen career, including the lead role in the original UK version of House of Cards.) Although Ian's involvement would be limited to a voiceover, his son Miles Richardson played the role of Douglas Cavendish, an ex-UNIT operative troubled by a time-travelling ghost, a creepy moving statue and of course the Daemons. For those non-Whoovers amongst you, the Daemons are a devilish alien race featured in a classic Third Doctor serial. Reaching its tentacles deep into the expanded Who-niverse, Daemos Rising was also a sequel to a prior Reeltime production, Downtime, and was tied in to a spin-off book series.
It was Miles who recommended me to director Keith Barnfather, having worked with me earlier that year on a feature called Blood Relative. Miles was joined on screen by his wife Beverley Cressman, playing Brigadier Lethbridge-Stewart's daughter Kate. Rounding out the cast of three, as the aforementioned spectre, was Andrew Wisher, whose father Michael was the very first (and arguably best) actor to portray Dalek creator Davros.
The shoot didn't start well. On the journey down to Devon, the prop shaft (bit that connects the engine to the wheels) dropped out of our rental van on the M5! Luis, the driver miraculously got us onto the hard shoulder while we still had some momentum, and the DVD extras include footage of us recovering as we awaited the RAC.
But this brush with death aside, I remember the shoot as a very happy one. It was a small team, just the three actors, Keith, his partner Anastasia, writer David J. Howe and his wife Rosie, and Luis on sound. We all stayed at the cottage, which was lovely, and enjoyed many a home-cooked meal and showbiz yarn. Miles and Andrew even gave an impromptu rendition of Billy Joel's a cappella classic The Longest Time at one point.
It was the era of Mini-DV, so I was shooting on my Canon XL1-S in glorious 576i. (I remember the damp playing havoc with the DV tapes when we shot the third act in a cave system called Kent's Cavern.) I also supplied the lighting package, which consisted of 2 x 800W Arrilites, 2 x 1000W Arrilites and a vintage 5K Mole Richardson fresnel. The latter required a local electrician to wire us a 32A socket into Ian's fusebox! Back then I used only hard light because I didn't know any better, and it gave everything a distinctive noir style.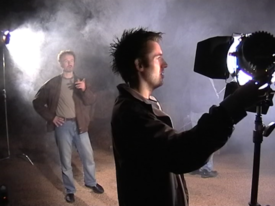 Speaking of a distinctive style, Daemos Rising is a significant milestone in my career because it was the first time I ever used smoke. The script called for spooky mist in several scenes, so Keith bought a Magnum 550 and we ended up using it on all the night exteriors. He kindly gifted me the machine at the end of the shoot, and needless to say I never looked back. Many a cast and crew may think of their poor lungs and rue the day that Keith Barnfather gave Neil Oseman his first smoke machine!
While the day interior lighting looks rough to me now, I think many of the night scenes still look pretty good 13 years on. Although my lamps were all tungsten, and the XL1 didn't allow me to dial in a white balance, I would point the camera at something red and force the camera to white-balance on that, turning everything a nice James Cameron cyan.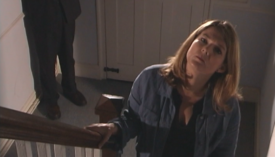 Just days after we wrapped, the BBC announced that Doctor Who would return in 2005. I fear the new generation of kids who now form the core of Who's avid audience might find Daemos Rising a little slow and talky, but for fans of the classic series there is lots to enjoy. The tone and storyline are very Who, and there are several easter eggs scattered throughout the film. And some aspects of Daemos Rising fit the new series' continuity too, including the Brigadier's daughter Kate — now played by Jemma Redgrave – and UNIT's Black Archive.
The re-release provides the opportunity to watch Daemos Rising in the aspect ratio we originally intended, 16:9 (the original DVD having been masked only to 14:9) and also offers the option of 5.1 surround sound. It's available now from Amazon and high street retailers.