LED lighting has found its way onto most sets now, but there is another off-shoot of LED technology which I see cropping up more and more in American Cinematographer articles. Sometimes it's lighting, sometimes it's a special effect, and often it's both. I'm talking about LED screens: huge LED panels that, rather than emitting solid, constant light, display a moving image like a giant monitor.
I touched on LED Screens in my article about shooting on moving trains, and moving backgrounds do seem to be one of the most common uses for these screens. House of Cards has been in the news this week for all the wrong reasons, but it remains a useful example here. Production designer Steve Arnold describes the use of LED screens for car scenes in the political drama:
We had a camera crew go to Washington, D.C. to drive around and shoot plates for what you see outside when you're driving. And that is fed into the LED screens above the car. So as the scene is progressing, the LED screens are synched up to emit interactive light to match the light conditions you see in the scenery you're driving past (that will be added in post). All the reflections on the car windows, the window frames and door jambs is being shot while we're shooting the actors in the car. Then in post the green screens are replaced with the synced up driving plates, and it works really well. It gives you the sense of light passing over the actors' faces, matching the lighting that is in the image of the plate.
This appears to be the go-to method for shooting car scenes now, and more exotic forms of transport are using the technique as well. Rogue One employed "a massive array of WinVision Air 9mm LED panels" to create "an interactive hyperspace lighting effect" (American Cinematographer, February 2017).
Production designer Doug Chiang comments on the use of LED screens in the Death Star command centre:
We wanted to see things on the viewscreen where traditionally it would have been a giant bluescreen; we wanted the interactive reflective quality of what you would actually see. Even though we ultimately had to replace some of those images with higher-fidelity images in postproduction, they were enough to give a sense that the quality of light on the actors and the reflections on the set looked and felt very real.
One of the first major uses of LED screens for lighting was in the seminal stranded-in-space thriller Gravity. Concerned about blending the actors convincingly with the CGI backgrounds, DP Emmanuel Lubezki, ASC, AMC came up with a solution that was, at the time, cutting-edge: "I had the idea to build a set out of LED panels and to light the actors' faces inside it with the previs animation." (AC, November 2013)
Gravity also featured a scene in which Sandra Bullock's character puts out a fire, and here once again LED panels provided interactive light. This is a technique that has since been used on several other films to simulate off-camera fires, including Christopher Nolan's Dunkirk, and the true story of the BP oil rig disaster, Deepwater Horizon.
Traditionally, fire has been simulated with tungsten sources, often Maxibrutes, but on Deepwater Horizon these were relegated to background action, while foregrounds were keyed by a huge 42'x24′ video wall made up of 252 LED panels.  DP Enrqiue Chediak, ASC had this to say (in AC, October 2016):
Fire caused by burning oil is very red and has deep blacks. You cannot get that with the substance that the special effects crews use – all those propane fires are yellow. Oil fire has a very specific quality, and I wanted to reach that. It was important to feel the sense of hell.
By playing back footage of real oil fires on the video wall, Chediak was able to get the realistic colour of lighting he wanted, while retaining authentic dynamics.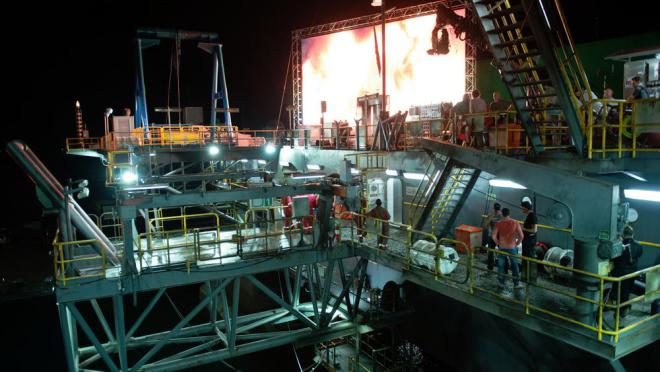 This technique isn't necessarily confined to big-budget productions. In theory you could create interactive lighting with an iPad. For example, a tight shot of an actor supposedly warming themselves by a fireplace; if you could get the iPad close enough, playing a video of flames, I imagine the result would be quite convincing. Has anyone out there tried something like this? Let me know if you have!
I'll leave you with a music video I shot a few years back (more info here), featuring custom-built LED panels in the background.