Day 6
I think the director is turning into Harvey Greenfield. This morning Jonnie burst unexpectedly out of a hedge apologising for being slightly late.
Our first location was a surprisingly busy park in the village of Exning. We shot under the trees lining the edge of the park, keeping the camera on the same side of the eye-line as this handy arboreal negative fill, allowing the open sky of the park proper to light the actors' off-camera sides. It's great when blocking works out in your favour like this.
Then we moved around the corner to Wests Garage. First up here was a 24mm tableau shot to establish Barry the mechanic when he first calls Harvey, just as we have done to introduce the other supporting characters. We placed Barry in an office with a window behind him showing the workshop. Stephen arranged our four Astera tubes (in tungsten mode) around the workshop as practical work-lights, clamping some to pillars and placing others on the floor; wherever possible we are adding orange splashes of light (Harvey's stress colour) into the background of these tableaux.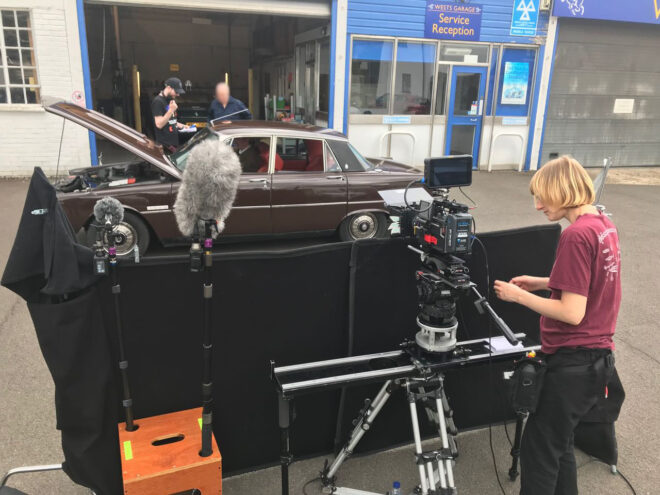 Next we shot outside around a car (a Rover I think – they all look the same to me), getting a nice slider shot parallel to the vehicle. Shades of Wes Anderson again. The trouble with all these straight-on shots of windows and shiny cars is hiding all the reflections. Stephen had to build a wall of floppy flags to disguise the slider.
By the time we wrapped the heat was getting to us all, and there was nothing for it but to try out the local pub.
But that was closed for a private party so we went to the other local pub instead.
Day 7
Jonnie was wearing Harvey's jacket. Definitely turning into him.
We were at Othersyde, part of the Cambridge Museum of Technology, for the biggest day of the shoot: 12 scenes and nine pages of script to cover.
We began in a tent – Amanda had kindly found an orange one at my request – which we flagged on one side, adding the Aputure 300D to the other side to bring some shape to the lighting.
Then we moved into one of the venue's toilet cubicles, where we simply added a skirt of black wrap to the existing overhead light fitting to reduce the light on the walls and add contrast. (Stephen and spark daily James also had to build a black-out tent around the door so that it could be open for the camera to see in without admitting daylight.)
Then we jumped into the bar of the Engineer's House to grab a one-shot flashback scene. We lit through two windows (the Aputure and the Litemat 2S, I think) and added fill (a CTB-gelled 2K bounced off poly) and a couple of other sources inside (an Aladdin into a dark corner; a tungsten lamp shining down some background stairs). The shot required some well-timed whip-pans – always good for comedy. These require great skill as a camera operator when executed on sticks, but fortunately for me this one was handheld which makes the muscle-memory involved much easier.
Next we were in another toilet cubicle. Again we skirted the ceiling light and tented around the door, but this time another character had to come in. Here we used an LED fixture which Stephen built himself, gelling it with Urban Sodium as this shot is part of a sequence that has a stressy, streetlamp look to it.
By this time it was getting towards evening and we set up for a slider shot at the front of the site, overlooking the River Cam and shooting towards the low sun. Thanks to Helios Pro – a sun tracking app – we managed to time this just right. A 4×4 poly bounce either side of camera was all that was needed to supplement the beautiful natural light.
Sounds like all that would be enough for one day, doesn't it? But oh no, the big scene was still to come. With 20 or 30 extras we staged a wedding reception under Othersyde's marquee. Stephen keyed the wedding party at the head table with the Aputure bounced off poly (both rigged to the marquee's ceiling) and we backlit them with a tungsten 1K firing out of an upper window of the Engineer's House. A character off to one side was lit with an Aladdin rigged to the roof of the bar. The aim was to keep the lighting fairly warm overall, but to make those warm foreground colours pop we added blue-gelled 300W fresnels uplighting the Engineer's House and a 1K in the deep background, gelled with Steel Blue, for a hint of moonlight. All of this was supplemented by the venue's existing string lights, bar lights, LED uplighters in the flower beds and candles which Amanda placed on the tables.
Although we didn't quite make the call sheet, we only dropped one brief scene – a pretty amazing result and one for the whole team to be proud of. Our welcome reward was a selection of Othersyde's finest pizzas.
Day 8
The morning was spent with a beautiful horse-drawn hearse (featuring more fun reflective surfaces!) while the afternoon took place around an off-camera grave in Ely Cemetery. Some brief scenes with the child actors, faking a corner of the cemetery as a park, completed a damp but straightforward day for cinematography.
Day 9
About a third of Harvey Greenfield is Running Late takes its title very literally, seeing Paul Richards' character hurrying to his next appointments as he makes phone calls and talks to camera. Today was the first day dedicated to capturing these scenes.
The first few scenes were shot as Annie Hall-esque wides in the streets and parkland around of Ely. (Much as Hot Fuzz filmed in Wells but painted out the cathedral, we framed out Ely Cathedral to avoid it becoming an identifiable landmark.)
To get a shot of Harvey looking down at a piece of litter, we put the empty beer can on top of two peli cases. Using the lovely wide 14mm lens we were then able to shoot up past it to Harvey and even rack focus to the can. I never usually hire anything wider than an 18mm but I have certainly learnt to appreciate what a 14mm can do on this shoot, even if it does make lighting and boom-operating more challenging.
Our Steadicam operator Rupert joined us again for the rest of the day, bringing along a rickshaw to enable him to track Harvey more smoothly. This drew plenty of attention from the general public, particularly when we moved down to Ely's picturesque riverside. Most people were very friendly and kindly stayed out of frame if asked to, but a couple of self-styled pirates seemed determined to get an unscripted cameo. Nevertheless we managed to pull off a long and complicated shot which begins with Harvey approaching camera down a tree-lined car park and then tracks him in profile as he pelts along the riverbank.
Day 10
The morning was spent filming outside a house in Romsey – a short walk from home for me – which was standing in for Harvey's. There was yet more fun with reflections when we had to shoot Harvey's neighbour looking out of his window. No matter how tight the budget is, I will never ever take a polarising filter off my kit hire list again.
In the afternoon we captured more Steadicam running scenes around Romsey Park, before moving onto the nearby streets when it got dark. Here the Gemini's low light mode saw use again, allowing us to rely mostly on the existing streetlamps (not pretty, but it works for the story). Stephen rigged an Aladdin to the rickshaw so that Harvey would have a little fill light moving with him.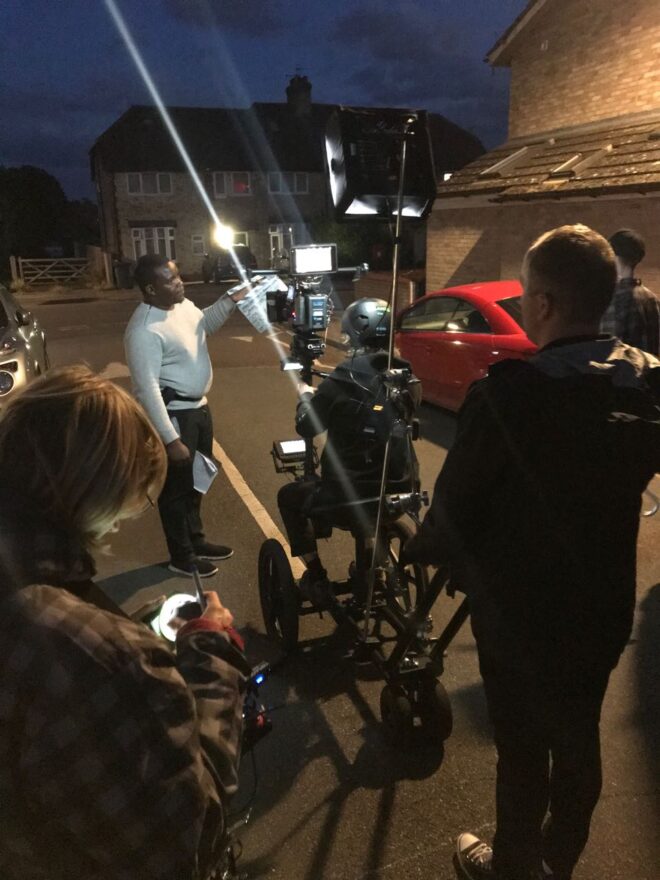 Finally we moved back into the park, where Stephen had cross-lit the kids' playground with tungsten sources. This formed the background of the scene, with the action taking place under a streetlamp in front of the play area. As the streetlamp was naturally very toppy, we fired in a Litemat (gelled with Urban Sodium) from above the camera to make sure that we would see Paul's face for this critical performance scene.
There will be more on Harvey Greenfield's second week in my next post. In the meantime you can follow the film's official Instagram account or Facebook page.