The following article originally appeared on RedShark News in 2018.
Directed by Bryan Singer, of X-Men and The Usual Suspects fame, Bohemian Rhapsody charts the story of Queen from their formation in 1970 to their triumphant Live Aid set in 1985, with plenty of their classic rock hits along the way. Rami Malek (from Amazon's Mr. Robot) turns in an Oscar-winning performance as larger-than-life frontman Freddie Mercury.
In his tenth collaboration with Singer was director of photography Newton Thomas Sigel, ASC. I spoke to Sigel about how he approached evoking an era, recreating the concerts, and lensing a legend.
"Every day was this wonderful trip back in time," enthuses Sigel, who saw the movie as a chance to relive his own youth. "I love shooting music. There is this wonderful transition from the end of the counter-culture, through glam-rock into the hedonism of the eighties."
Shooting digitally, Sigel employed both the Alexa SXT and Alexa 65. "I decided the movie needed to have a visual arc that best represented the band's transition from idealists to rock stars, and all the issues that creates. To that effect, I did the first act with old Cooke Speed Panchro lenses on the Alexa SXT. As Queen is discovered, and begins to be known on the international stage, we transition to the Alexa 65." Sigel later fine-tuned this arc during grading.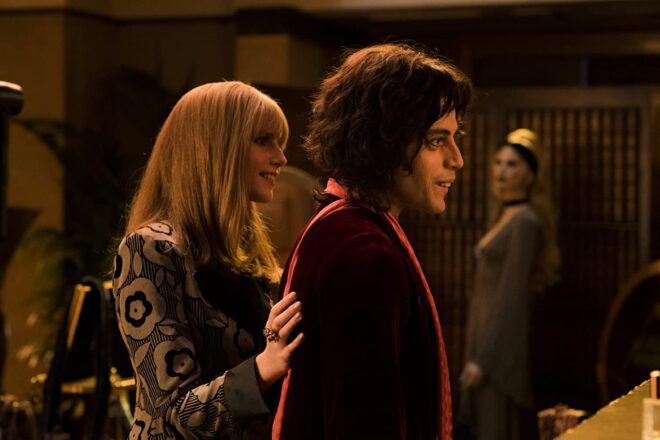 The cinematographer paired the large-format Alexa 65 with Prime DNA and Prime 65-S glass, testing all the lenses to find the ones with the most gentle fall-off in focus. "Each lens had its own personality, and was never really 'perfect'. Our 28mm had a particularly crazy quality that, when used sparingly, had great effect."
One thing that struck me immediately about the cinematography is the distinctly un-British, warm and glowing look, with lots of sun streaming through windows. This was all part of Sigel's plan, which develops as the film progresses. "What begins as warm and golden, with its own special LUT, grows ever sharper and cooler, even desaturated," he explains. "The beginning is all handheld and grainy, the rest much cleaner, with the camera on Steadicam and crane."
Sigel took a down-to-earth approach to photographing Malek's Mercury. "I always wanted Freddie to feel very real," he states. "It is important that you sense his vulnerability at the same time as he is projecting the bravado of the consummate showman. Like so many great performers, Freddie exuded confidence and brashness on stage, and yet, had a terribly shy insecurity in 'real' life."
The highlights of Bohemian Rhapsody are undoubtedly the concert scenes. To tackle these, Sigel began by watching every single piece of Queen footage he could lay his hands on, noting the development of the stage lighting over the years. "I wanted to be as faithful to that as I could, while still having it service our story," he says. That meant eschewing the easily-coloured RGB LED fixtures so common in movies and concerts today, and going back to the traditional method of laboriously changing gels on tungsten units. "We stuck to period lights," Sigel confirms, "predominantly par cans and follow spots."
The sheer number of concert scenes was a challenge for the filmmakers, who at one point had to shoot four gigs in just two days. "We had so many concerts to shoot and so little time, I needed to develop a system to quickly change from one venue to the next," Sigel recalls. "Because Queen's lighting was based on large racks of par cans, we were able to construct a very modular system that would allow us to raise or lower different sections very quickly. By pre-programming lighting sequences, we could also create sequence patterns with different configurations of light pods to make it look like a different venue."
The types of units change as the story progresses through the band's career. "By the late 70s, Queen was among the first bands to adopt the Vari-Lite, which was championed by the band Genesis," Sigel explains. "That opened up many more possibilities in the theatrical lighting, which also reflected the band's ascendancy to the upper echelons of the rock world."
Sigel notes that he embraced all opportunities to capture lens flares from the concert lighting. "There is a great moment during Live Aid where Freddie makes this sweeping gesture through a circular flare, and it almost seems as if he is drawing on the lens."
The historic Live Aid concert forms the jubilant climax of the film. Queen's entire 20-minute set was recreated over seven days of shooting. "We photographed it in every type of weather Great Britain has ever seen: rain, sun, overcast, front-light, backlight – you name it. We couldn't afford to silk the area as I would have liked," Sigel adds, referring to large sheets of diffusion hung from cranes to maintain a soft, consistent daylight. "So it was a constant battle and the DI [digital intermediate] certainly helped."
Filming for Bohemian Rhapsody began in autumn 2017, but by December trouble was brewing. Twentieth Century Fox halted production for a while, with the Hollywood Reporter citing the "unexpected unavailability of director Bryan Singer" as the reason. Dexter Fletcher, who had been attached to direct the nascent film back in 2013, ultimately replaced Singer for the last leg of photography.
"A change like that is never ideal," admits Sigel, "but Dexter was very impressed with what we had done so far. With only a couple weeks to go, he was happy to carry on in the direction we had begun. Obviously he brought some of his own personal touches, but what I noticed the most was the ease he had in communicating with the actors."
Reflecting on his long history of collaboration with Singer, Sigel is very positive. "When you have done that many movies together, there is a shorthand that develops and makes much of the work easier because you know your parameters from the beginning. Bohemian Rhapsody was truly the 'labour of love' cliché for so many people involved; it was quite remarkable."
Asked to sum up the appeal of Bohemian Rhapsody, the cinematographer declares, "The film has everything – a deep emotional core at the centre of what is otherwise an exuberant celebration of Queen's music. I also think Freddie's story of an immigrant outsider just trying to fit in has a resonance today that is very profound."