Anyone else feel like this year was two steps forwards and two steps back? The current panic and looming threat of restrictions seems very much like how we all felt last year. All that's needed to complete the effect is a last-minute U-turn to prevent Christmas mixing.
Anyway, I'm fortunate enough that the year as a whole has treated me quite kindly. In keeping with tradition, I'll round it off with a list of my favourite blog posts.
This was originally written for RedShark News, a website about moving image technology and production news. The editor let me do a series of retrospectives about classic films and how they were made, most of which have subsequently made it onto this blog. Superman II was one of the first I did and is still one of my favourites. The story behind its production is so unique, with the first two films being initially shot back to back, then the second one being temporarily shelved due to budget overruns, the director being fired and much of it being re-shot. I had to cut a few hundred words out for the RedShark version, but you get the full-fat edition here on my site.
I first read about the Soviet probe Luna 3 in Giles Sparrow's coffee-table book Spaceflight. I have been fascinated by space travel ever since watching all the programmes celebrating the 25th anniversary of the moon landing in 1994. When I discovered that Luna 3 had a photographic developing lab inside it, I knew it would make a great article. Again this appeared first on RedShark News.
I spent most of this February and March in prep for a feature adaptation of Hamlet starring Sir Ian McKellen, which was an absolute privilege to work on. Although I wasn't allowed to name it at the time, I posted weekly blogs about the prep process, of which "Experimentation" is my favourite. This instalment covers the camera- and lens-testing process and includes a video of the results. Hamlet itself is likely still at least a year away from release, but rest assured that I have written a production diary and it will be posted when the film is out… or scroll down for a sneak preview!
This article gets to the core of what I like this blog to be about: sharing my own experiences of cinematography, analysing the decisions I made, and sharing the results. This is the story of Alder, a fairytale short filmed in a single, packed day!
Another keystone of this blog is reference information about the technical side of cinematography. This article aims to cover everything you need to know about white balance and colour temperature.
Another piece that started life on RedShark News, this one looks at how VFX that nowadays would be computer-generated particle simulations were done in the pre-digital days. I'm fascinated by traditional VFX; I used to tape films and TV shows on VHS and use frame-by-frame playback to analyse how they were done. (One show that went under the microscope in this manner was the 1988 Doctor Who story "Remembrance of the Daleks", and I was lucky enough this month to interview the digital matte-painter responsible. You'll be able to read that piece in the January issue of Doctor Who Magazine.)
Every now and then I write what I think of as an "investigation" post; I dig into a concept like the Inverse Square Law, CRI or the Rule of Thirds and try to find out where it came from and whether it's actually as useful or accurate as we tend to assume. In this particular post I try to find out where the idea of blue moonlight in cinema came from, and how the exact colour has developed over the years.
The second feature I shot this year was a micro-budget comedy based on a critically acclaimed Edinburgh Fringe show. I posted a production blog as we went along, and I'm picking week 2 as my favourite because it includes the crazy day we shot 11 scenes and over eight pages.
A tale from right back at the start of my filmmaking journey, this post brought up lots of fun memories as I was writing it. Quantum Leaper is an amateur spin-off of the 1980s-90s cult sci-fi series Quantum Leap, which my friend David Abbott and I made on a Video-8 camcorder in the mid '90s. Sadly, not long after I wrote the piece, Quantum Leap star Dean Stockwell passed away, but I still hold hopes that Scott Bakula might one day appear in a sequel series to find out if Dr Sam Beckett ever returned home.
A Preview of Things to Come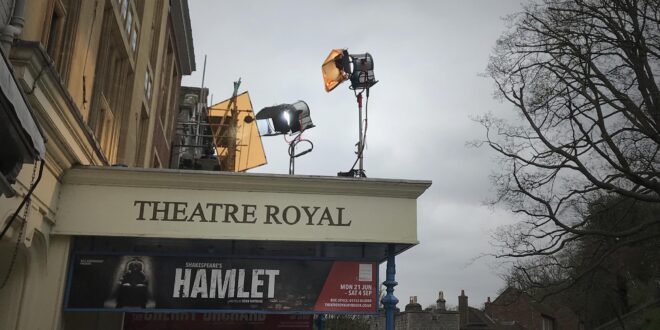 I can't say at present when Hamlet will be released, but when it is I'll be publishing my diary from the shoot. I'll leave you with a preview from Day 1…
We started with scenes at the stage door, one of the few spaces in the theatre that has natural light coming in. Gaffer Ben Millar and I considered trying to add artificial light outside to the main window which was backlighting the scene, but instead we opted to light through a little side window with a Fomex wrapped in unbleached muslin. After a hiccup about blocking and crew shows, we bashed through three set-ups including two using Wes Anderson-esque central framing and eye-lines very close to camera.
Next up was a scene in the substage, next to the boiler room. Here we installed a practical tungsten bulkhead light on the wall as our key, adding to the extant yellowy-green fluorescents that illuminated parts of the background, and the Fomex spilling down a staircase. Lots of black negative space in the frame added to the moody look.
After lunch – during which I sorted out the footage transcoding plan with line producer Stephen Cranny and data wrangler Max Quinton – we moved to the glamorous location of the gents' toilets for Ian McKellen's first scene. The location had been very flat and white originally, but Ben's crew rigged three Astera tubes to the tops of two walls – the two walls that we were mainly shooting towards – and that created a nice wrappy backlit look. Director Sean Matthias embraced the weirder shots I had storyboarded, which I was very happy about!