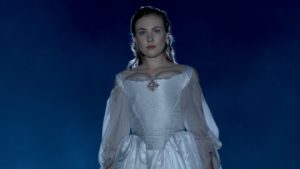 Front-light is a bit of a dirty word in cinematography. DPs will commonly be heard rhapsodising about beautiful backlight or moody sidelight, but rarely does the humble front-light get any love. But there is no right or wrong in cinematography. Just because front-light is less popular, doesn't mean it can't make a great shot.
Why do we avoid front-light so often? Because it usually flattens things out, reducing or eliminating any sense of depth in the image, and giving no shape to faces or objects. Sometimes this might be the perfect look: for a character who is shallow, or who feels like their life is dull and uneventful, perhaps; a live-action scene to be intercut with two-dimensional animation; or a stylised flashback like the image above. And sometimes, of course, front-light is unavoidable for logical reasons – if a character is looking out of a window, say. The trouble is, it can make for un-engaging or un-cinematic images, and that's when you may want to pull some other tricks out of the box.
Here are six ways to bring some interest back into a frontally-lit frame.
1. Cut the light.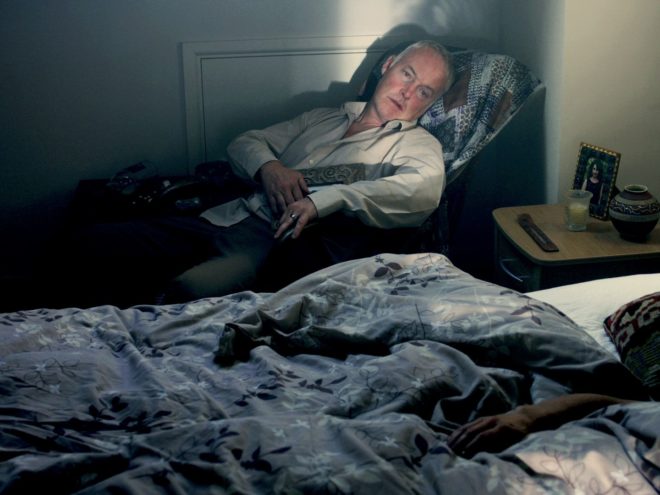 If you can flag some of the front-light, reducing the area of the frame it's hitting, and leave the rest to the fill light or to fall into shadow, you'll get some contrast back into your image.
2. Use a gobo.
If it doesn't make sense to cut the light, try breaking it up with a gobo. You can make a gobo from almost anything. Commonly on night exteriors I send a spark off to liberate a branch from a nearby tree and rig that in front of the key-light. If I need to create a window-frame effect I've been known to clamp a chair or stool to a C-stand to get a suitable pattern of perpendicular lines.
3. Add dynamics.
Front-light is often more interesting if it's not there all the time. If you can find an excuse to have it flicker or move somehow, you'll get a lot more mood and shape in your shot. Firelight, TVs, rippling water, panning searchlights or the headlights of a passing car can all safely come from the front and remain dramatic. Create a moving gobo and you've got something really interesting. The tree branch example from earlier – if that blows around in the wind then it will add a lot of tension to the visuals. Here's a firelight example from Ren: The Girl with the Mark…
(Check out my Instagram feed for more lighting breakdowns like this.)
4. Darken the background.
You can combat the lack of depth by keeping the background dark, so that the front-lit subject stands out against it. This will happen automatically due to the Inverse-square Law (a post on that is coming soon) if the subject is close to the source, e.g. standing right by a window. Due to the nature of front-light, you probably can't flag the background without flagging the subject too, so bringing your source closer to the subject or redressing the background may be your only options.
5. Make a virtue of the subject's shadow.
One reason to avoid front-light is the distracting shadow which the subject will cast on the background. But sometimes this can be a great benefit to the shot, almost becoming another character, or adding subtext as in this painting.
6. Use a strong backlight.
If there's nothing you can do to modify the front-light, then pumping up the backlight might well save the day. The most flatly-illuminated shots suddenly become deep and appealing when the subject has a halo of over-exposed light. Indeed, this is what commonly happens with day exteriors: you shoot into the sun to get the nice backlight, and ambient light flatly fills in the faces.
So next time you're faced with front-light, remember, it's not the end of the world!