One of the great things about DSLRs is that, being so small, you can put them in all kinds of unusual places and, being so light, you can rig them to things with relatively little hassle. Stop/Eject is not the sort of film where we'll being doing a lot of this (unlike Act of Valor, which I strongly suggest you check out), but there is one shot that needs a custom rig…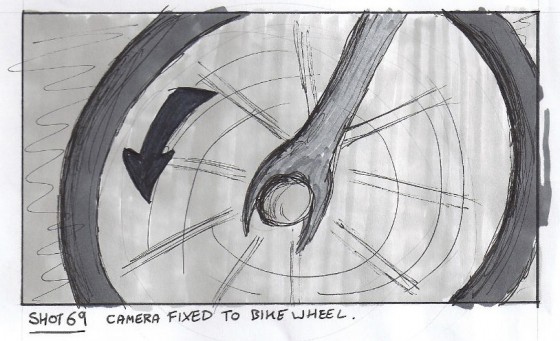 In this shot, the camera needs to be attached to the bike in some way so it moves with it, maintaining the same framing on the wheel throughout. This is part of the film's visual theme of circles, which I discussed earlier this year on the blog.
If the shoot had gone ahead last October as originally planned, this shot would probably have got dropped or replaced with a similar but less effective version achieved by simply steadicamming along next to the bike. But one great advantage of a shoot being postponed is the opportunity to prepare so much better.
To that end, Colin and I borrowed his mum's bike this morning to test the shot. Under the pressure of a low budget filming schedule, you can't mess around trying to figure out a rig like this. You have to work it out in advance.
My plan was to use a C-stand arm and a cheap tripod to get the camera in the right place. First of all we tried clamping the arm to the frame of the bike, but it was too thick. So then we clamped it to the pedal (which meant roping or clamping the pedal to another part of the bike so it wouldn't turn). The bottom of the tripod was clamped in turn to this arm. The handy thing about using a tripod, of course, is that you have a pan-and-tilt head for easy adjustments and a quick-release plate too.
Initially we filmed the rear wheel, but then I realised filming the front wheel would allow us to get a wider frame, since the pedals (which had to be framed out because the arm was clamped to one of them) were further away from the front wheel.
The rig worked out really well. We had to use a lens with an image stabiliser, and when we shoot it for real we'll put someone on the bike to weigh it down and reduce the bumps further. I'd imagined we'd have to use a second clamp and bungee cords to keep the camera in place, but the sturdiness of the C-stand arm and the low weight of the camera made this unnecessary.
Yeah, we got a bit of the pedal in shot, not to mention Col's feet. But those things are easily fixed.
Just before I sign off, I have to give you a link to Tony Hill Films, a site I came across while researching bike rigs. He's built a number of unique and fascinating camera rigs which you can see in action on the site: http://www.tonyhillfilms.com/rigs