Almost every film today has visual effects of some kind or another, be it compositing a phone screen for a couple of shots or adding a fleet of attacking spaceships and their laser blasts destroying distant CG buildings. Many smaller productions cannot afford to have a VFX supervisor on set, however, so a conscientious DP should be looking out for ways they can ensure the footage they capture is not going to cause complications or rack up extra costs down the line.
1. Interactive Light
VFX will often look a lot more convincing if they affect the lighting on the actors or set. This could be as simple as flashing a lamp for a gunshot that's going to be added in post, or it could involve programming a dynamic lighting effect into a row of Astera tubes. Remember that it could be negative lighting; I once had to shoot day exterior scenes next to an alien spaceship that wasn't really there, so I had the gaffer rig a wall of floppy flags to create its shadow.
Beware though: inaccurate interactive lighting – be it mistimed, the wrong colour or casting unrealistic shadows – is worse than none at all. I would always advise shooting a take without the interactive lighting, because even if you do it perfectly there is always the chance that the effect will be changed in post-production from what was agreed.
2. Tracking
If you are doing a moving shot to which something will be added in post, consider adding some tracking crosses into the scene. Tracking software is really good now, but it doesn't hurt to help it along, especially if you're dealing with a fairly featureless surface like a blank TV screen, and definitely with green screens. A simple X made of white camera tape will do the job. Be careful not to cover up any detail that will make the X hard to paint out.
3. Recording Mode
If you are not generally shooting at the highest quality your camera permits, consider switching up to it for VFX shots at least. This means going to RAW if you were in, say, ProRes, or increasing the bit depth, and reducing the compression ratio. The cleaner the image, the easier you make life for the VFX team, particularly when it comes to pulling keys and motion tracking.
If you're able to increase the resolution so that there is extra image outside the frame that will help VFX with any stabilisation, artificial image shake or adjustments of the camera move they need to make once the CG elements are in.
4. Camera Log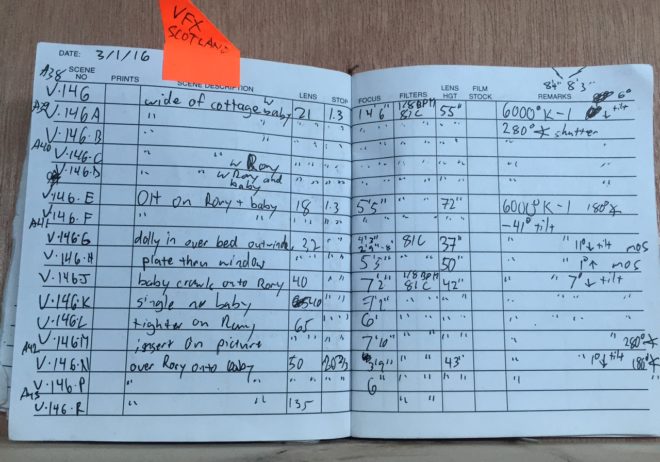 Accurate information about the lens and camera is important for the VFX department. Normally your 2nd AC will be recording focal length, T-stop, white balance, ISO, shutter angle and filtration, but for VFX shots a few extra things will be useful: lens height from the ground, tilt angle (use an inclinometer app) and at least a rough focal distance.
5. Green Screens
There are a whole host of things to look out for when you're shooting on blue or green screens, but the main one is lighting. You should light the screen as evenly as possible, and to the same level as your key light. Once the camera position is set, a good tip is to bring in a couple of flags just out of the sides of frame to cut as much green spill as possible off the talent, so that the VFX team can pull a clean key.