As 2012 draws to a close, it's time for me to reflect on how things have gone for me this year.
Up until mid-2011 my filmmaking strategy was very simple: I would make a film, focus and work on that film and that film only (apart from rent-paying jobs), then when it was complete I would move onto the next one. Thus, since going freelance in December 1999 I made Traction, Soul Searcher (short), Cow Trek, The Beacon, Soul Searcher (feature) and began working on The Dark Side of the Earth. Eventually, after six years of trying to get the latter project made, I realised that I had to change my MO.
As well as having multiple films on the go at once, I realised that I needed to work more on others' projects, and crucially I needed to promote myself, to network and to make more contacts. Undoubtedly the thing that's helped me most with this in 2012 is crowd-funding Stop/Eject. It forces me to promote myself and the project regularly, and has made me lots of new contacts on the social media sites and in more traditional arenas like the Herefordshire Media Network.
Giving talks and workshops is also a great way to get yourself known, and so I wanted to do at least six of these in 2012. In the end I've managed to do seven: three on the funding, making and distribution of Soul Searcher, three on the funding and making of Stop/Eject and one on freelancing in general. I also had Video8 screened at The Worcestershire Film Festival and attended Short-Sighted, a conference at BAFTA. Then in September I was lucky enough to be accepted onto the FilmWorks programme, the ultimate networking event, and came out of it with some great contacts.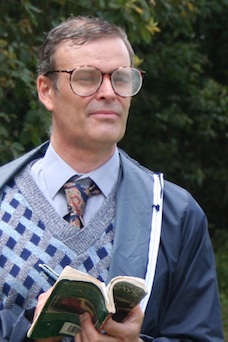 My directing goals for this year were to make a Virgin Media Shorts entry again, complete Stop/Eject and shoot a third short film of at least five minutes in length. Unfortunately I only succeeded in the first of these, with Stop/Eject still having much of post-production ahead of it and not even a script yet ready for the third short. I'm still keen to do another short, but without any clue of how to finance it I have difficulty feeling any impetus to get going on it.
In 2013 I definitely need to complete Stop/Eject and have a rough cut of my next short film by the end of the year, as well as entering Virgin Media Shorts again. I also want to have the Stop/Eject feature script at second draft stage and the beginnings of a package (actor attachments, outline budget and so on) by this time next year. I'd like to get at least one more feature script worked up as well. I want to get more directing gigs for other people, like SAS Couriers, and do more talks and screenings. It would be great to get Video8 into at least one more festival.
We'll see how it goes.
But to finish off the year, here are what I think are the most interesting or useful of my ramblings on this blog in 2012: