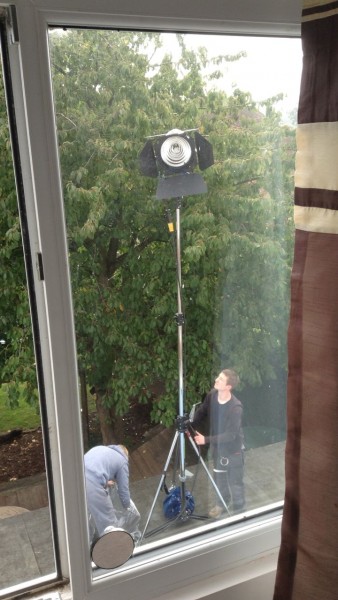 The final scene of Crossing Paths to go before the camera was a sombre daylight interior in a bedroom. If you've read my last two blog posts you'll know that backlight is the central pillar of my approach to lighting both day exteriors and night exteriors. Daylight interiors are no different.
For day exteriors your backlight is the sun. For night exteriors it's usually the moon. For day interiors it's windows.
On the location recce I'd agreed with director Ben Bloore and production designer Sophie Black that we were going to shoot mostly towards the bedroom's window. Given that the bed was the focal point of the scene, this decision was also cinematographically sound because it made for the most depth in the image, the window being in a dormer that distanced it from the bed.
To punch up the natural light coming in through the window – which was on the second floor –  I had my crew clamber up on the flat roof of the extension and erect our Arri M18 on a double wind-up stand. Luckily the geography of the room and the blocking permitted the M18's light to hit Tina's face as she lay in the bed.
Sophie had dressed a floor lamp in next to the bed, which gave me the perfect motivation to clamp a dedo to the bedframe, uplighting Phil's face. The cool M18 coming in from the rear right and the warm dedo coming in from the rear left picked out the actors' profiles nicely, as you can see below. This is a kind of cross-backlight set-up, as explained in Lighting Techniques #2.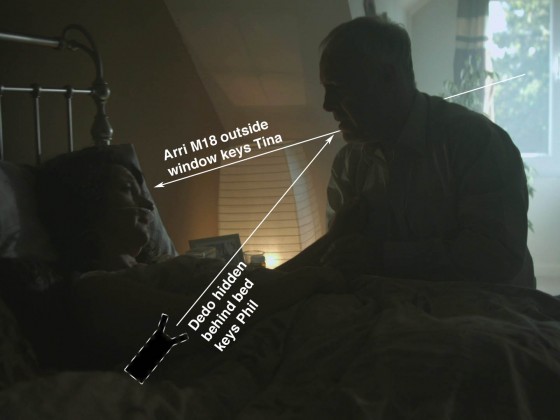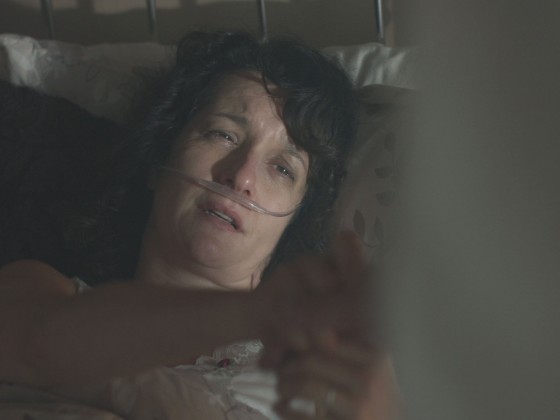 Immediately above the camera position there was a skylight with a roller blind. By opening or closing the blind I could effectively increase or decrease the level of fill in the lighting. For most of the scene I chose none. Some would argue that it's best to add fill and then crush it out in post if you don't like it, but I like to make decisions on the set wherever possible, to deliver the most cinematic image straight out of the camera.
To soften the scene I pumped in lots of smoke. Col had kindly gifted me a Magnum 650 (to fill the smoke machine void in my life since my Magnum 550 packed up last year) and we let that baby rip in that tiny little room! The smoke helped add to the sense of decay and reacted beautifully to the curtains being opened mid-scene.
That's all from the set of Crossing Paths. I believe the edit is now underway, and I look forward to seeing how this lovely little short film turns out.
Crossing Paths is a B Squared production (C) 2015. Find out more at facebook.com/Crossing-Paths-Short-Film-697385557065699/timeline/