I've been shooting films for Rick Goldsmith and his company Catcher Media for over 20 years now. "That's longer than I've been alive," said the make-up artist on U & Me, Catcher's latest, when I told her. Ouch.
Like most of the films I've done with Rick, U & ME is a drama for schools, about healthy relationships. These projects are as much about giving young people a chance to be involved in the making of a film as they are about the finished product. This means that we have to be pretty light on our feet as a crew – always a good challenge.
One of the main scenes was in the corridor of a school, or "academy" as they all seem to be called now (have we established yet that I'm old?). Rick had picked a corridor that was relatively quiet, though it was still impossible to film when kids were moving between lessons. It had a nice double-door fire exit at the end with diffuse glass. Any corridor/tunnel benefits from having light at the end of it. That's not a metaphor; light in the deep background is a staple of cinematography, and this light kicked nicely off the shiny floor as well. Whenever framing permitted, I beefed up the light from the doors with one of Rick's Neewer NL-200As, circular LED fixtures.
For the key light there was a convenient window above the hero lockers. The window looked into an office which – even more conveniently – was empty. In here I put an open-face tungsten 2K pointing at the ceiling. This turned the ceiling into a soft source that spilled through the window. I added another Neewer panel when I needed a bit more exposure.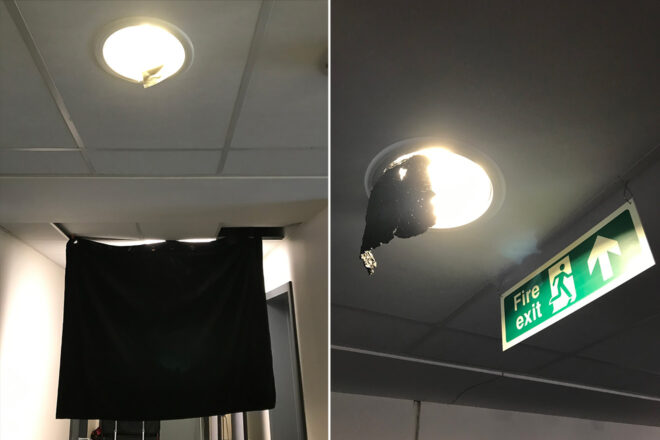 I also wanted to control the existing overhead lights in the corridor. They couldn't be turned off – I don't think there were even any switches – so I flagged the ones I didn't like using black wrap and a blackout curtain hung from the drop ceiling. I taped diffusion over another light, one that I didn't want to kill completely.
It looked nice and moody in the end.
A brighter scene was shot in the kitchen of an AirBnB that doubled as accommodation for us crew. Here I used the 2K outside the window to fire in a hot streak of sunlight that spilt across the worktops, the actor's clothes and the cupboards (bouncing back onto her face when she looked towards them).
The 2K would have been too hard to light her face with. Instead I fired one of the Neewers into the corner next to the window, creating a soft source for her key. The only other thing I did was to add another Neewer bouncing into the ceiling behind camera for later scenes, when the natural light outside was falling off and it was starting to look too contrasty inside.
It might not have been rocket science, but it was quite satisfying to get an interesting look out of ordinary locations and limited kit.